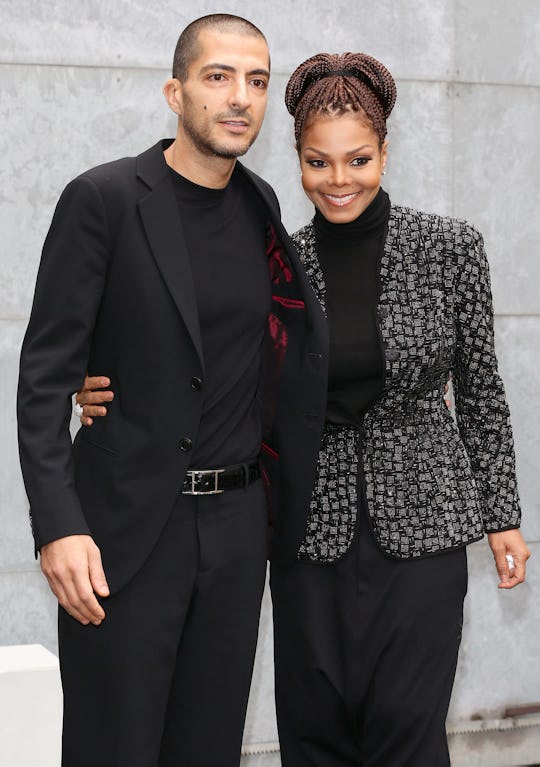 Vittorio Zunino Celotto/Getty Images Entertainment/Getty Images
It's A Boy For Janet Jackson & Wissam Al Mana!
OK — maybe this whole "new year" thing is going to work out after all, because the world has just been given the best belated holiday gift ever. Brace yourselves: In exciting news on Tuesday, a rep for singer Janet Jackson confirmed to People that Jackson had given birth to a baby boy with husband Wissam Al Mana. His name is Eissa Al Manna, just in case you want to start keeping tabs on him.
This is very exciting news if only because Jackson herself was so stoked to be pregnant in the first place. At 50 years old, Jackson cancelled her "Unbreakable" tour last spring to start "planning" her family with Al Mana. So this has been a long time coming.
When she finally confirmed that that planning had turned into full on baby prep — like shopping in London for nursery gear — you could almost feel the excitement of the mom-to-be, even though she remained super private throughout her pregnancy. Because of her age, her pregnancy was considered high risk and she was placed on bed rest this fall, making rare appearances in public.
Jackson knew her pregnancy was going to be an uncertain and long road way back when she cancelled her tour last year. She told fans, "Please, if you can, try and understand that it's important that I do this now. I have to rest up, doctor's orders! But I have not forgotten about you. I will continue the tour as soon as I possibly can."
But the news of her son's arrival is even more exciting knowing how much Jackson has wanted to be a mom, since, well, forever. She said in 2010 about getting pregnant, "You have to ask God. And once you ask him, will you let me know what he says? I would love to, I would love to have a family, but it's in God's hands. So if it's meant to be, it'll happen. I hope it does." Now that Eissa is here, how can one not be totally excited for the pop star?
When asked about how she would be as a mother, Jackson seemed to have it all figured it out way before little Eissa was even an idea. She told Entertainment Tonight in 2008 when an anchor told her that she'd be the best mom ever, "Well, I hope so. People say that, but I hope so."
Let's hope she's enjoying her newborn just as much as she planned on doing all the way back then. We still don't have any official Tweet or Instagram picture of the newest member of the Jackson clan, but we're betting he's absolutely adorable. And you know he'll have all the best dance moves.