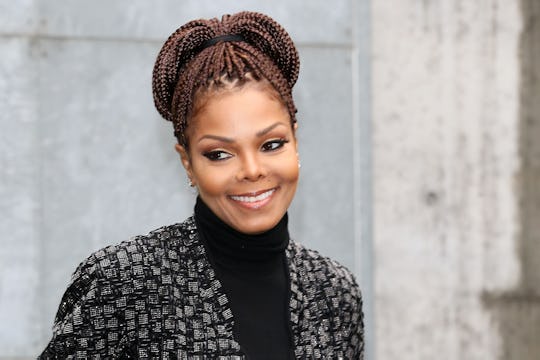 Vittorio Zunino Celotto/Getty Images Entertainment/Getty Images
Janet Jackson Says She's OK & Fans Are Overjoyed
After months of silence on social media, Janet Jackson told fans she's OK on Twitter as she expects her first child with her husband Wissam Al Mana. The health update was a rare message for the 50-year-old mom-to-be, who only confirmed her pregnancy to People just last month and hasn't tweeted since late August. As fans wait for the iconic singer's bundle of joy to make his or her much-anticipated arrival, her tweet on Saturday afternoon gave them a sense of relief in the midst of reports that, because of her age, Jackson's first pregnancy hasn't been the easiest.
"Hey you guys.. It's been awhile.. but I'm still listening.. I feel your love and prayers.. Thank you.. and I'm doing well.. Al Hamdu lillah," Jackson wrote on Twitter, concluding her message with an Arabic phrase that means, "Praise be to God."
The songstress and her husband, a Qatari businessman, have kept a relatively low profile since news first broke of Jackson's pregnancy back in May. But just last month Jackson was spotted in London with a burgeoning baby bump and official announced the exciting news on Oct. 12 in an interview with People, saying "We thank God for our blessing."
As her due date nears, the star shared this special update with her fans:
Fans were overjoyed to read Jackson's tweet, saying it was "good news" and they were excited to meet her bundle of joy soon.
It's good news indeed, as the very pregnant star reportedly hadn't been "feeling that great." A source told E! News that Jackson "gained more weight than she anticipated" and that "it hasn't been the easiest pregnancy at all." But, the insider also said that "she is excited to have her baby, and that's the light at the end of this tunnel."
Concerns of Jackson's health started soon after Jackson made an announcement that she needed to cancel the second half of her Unbreakable World Tour and delay shows until 2017. "My husband and I are planning our family, so I'm going to have to delay the tour," Jackson said in a video back in April. "Please, if you can, try and understand that it's important that I do this now. I have to rest up, doctor's orders!"
Although Jackson's latest health update didn't reveal the sex of the baby or when the world should expect to meet him or her, her positive message to fans was a hopeful distraction from the upsetting news that's been dominating headlines recently and a wonderful update that Jackson and her baby-to-be are doing well.