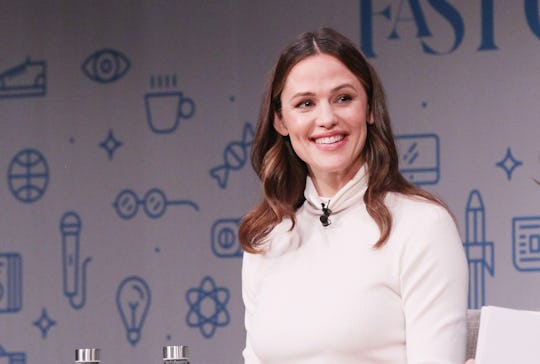 Bennett Raglin/Getty Images Entertainment/Getty Images
Jennifer Garner's Daughter Called Her A "Fun-Killing Mom"
Children are basically nature's unintentional mirrors. Sometimes they tell you things you might not want to know like it's something you've always known about yourself. Like the time my youngest son told me to take my hair out of its tight bun because "I can't tell if you're angry or that's just the way your face looks." I had no idea I looked perpetually annoyed when my hair was tied back. This is the sort of situation that frequently crops up for parents, even famous ones. Take Jennifer Garner, for instance. Garner's reaction to her daughter calling her a "fun-killing mom" was perfection. She managed to capture the complicated emotions of confusion, appreciation, and the dawning reality that your kids might know more about you than you first expected. It's quite terrifying in its way.
The Camping actress is a mom to three kids: 12-year-old Violet, 9-year-old Seraphina, and 6-year-old Samuel, all of whom she shares with ex-husband Ben Affleck. And if you've ever taken a moment to have a gander at her Instagram feed, you're probably well aware that she and her kids are hilarious. Both separate and together. Exhibit A: a note her daughter Seraphina left her mom, which she shared on Instagram on Friday, that read, "When I grow up I want to be a fun-killing mom, just like you."
Garner made it clear in her caption that she wasn't exactly sure how she should feel about being referred to as a "fun-killing mom," maybe especially when it was worded as a possible compliment:
Is this a nine year old burn? Or the ultimate compliment?
Some other moms weighed in on Instagram with their own opinions and their own experiences:
My kids "lovingly" refer to me as a Fun Sucker and a Wet Blanket. I own those names with pride and honor because they are still "alive".
My kids call me the fun squasher... I feel your pain 😂
It's nice to know there are other fun-killing moms out there! I think that's one sign that we're slaying at this parenthood thing. 😉
I'm going to guess that, in the end, Garner figured she would just roll with the note. She ended her caption with #illtakealovenotehoweveritcomes. And let's face it; isn't that basically how all parents feel? We'll take whatever you kids are dishing out.
I'm erring on the side of a compliment too, to be honest. Sure, nobody really wants to be called a "fun-killing mom," but little Seraphina made it clear that is what she intends to be some day. And she might have been trying to cheer her mom up. Garner has presumably had a pretty time of it lately; she and Affleck made their separation official by signing their divorce papers earlier this week, as ET Online reported. And while the two have remained almost adamantly amicable, the reality is these things are always pretty tough no matter how you slice it.
Good thing Garner's kids aren't exactly new at leaving her great notes. Back in July, her son Samuel added his own item to her personal agenda. It appears he was planning on booking his mom for two days of farting. Will wonders never cease.
Jennifer Garner's kids sound like a truly great time, and it seems as though she's happy to simply be along for the ride.