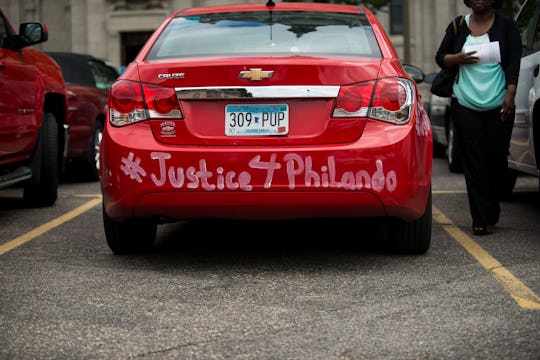 Stephen Maturen/Getty Images News/Getty Images
Jeronimo Yanez Will Be Charged In The Death Of Philando Castile — REPORT
When Philando Castile was shot and killed by a police officer during a traffic stop on July 6 in Falcon Heights, Minnesota, riots broke out among people who believed the officer used unnecessary force. In a press conference held Wednesday, Ramsey County Attorney John Choi agreed. Officer Jeronimo Yanez will be charged in the death of Philando Castile because Choi believed the "use of deadly force by Officer Yanez was not justified." Romper reached out to Yanez's attorney and has not yet received a response.
Officer Yanez will be facing three charges in the shooting death of Castile, including second degree manslaughter. Choi's office has been reviewing evidence in the case since Sept. 28, including a video recorded by Castile's girlfriend from inside the car after he was shot, which shows Castile bleeding as Yanez stood by. Castile's shooting and the subsequent release of the video recording set off violent protests against police brutality and racial profiling around the country. Castile was a 32-year-old elementary school cafeteria worker when he was pulled over by police for a broken taillight in the St. Paul, Minnesota, a suburb of Falcon Heights. His girlfriend, Diamond Reynolds, and Reynolds' 4-year-old daughter were in the vehicle with him when he was shot. Castile was allegedly shot while reaching for his license to carry a weapon. Reynolds live streamed the aftermath of the shooting on Facebook.
In a news conference held Wednesday, Choi said, according to ABC footage:
Unreasonable fear cannot justify the use of deadly force. The use of deadly force must be objectively reasonable and necessary given the totality of the circumstances. Based upon our thorough and exhaustive review of the facts of this case, it is my conclusion that the use of deadly force by Officer Yanez was not justified.
According to attorney Thomas Kelly, Yanez was reacting to the presence of a gun in the vehicle when he shot and killed Castile, ABC News reported. While Kelly insisted that the shooting was not racially motivated, the St. Anthony Police Department had Yanez put on paid administrative duty in August due to "concerns and other feedback from the community."
The announcement made by Ramsey County Attorney Choi came one day after the one year anniversary of another police shooting in Minneapolis; Jamar Clark was shot by two white police officers, Mark Ringgenberg and Dustin Schwarze, during a scuffle on Nov. 15, 2015. Clark was allegedly interfering with paramedics attending to a woman and the officers tried to detain him; he was shot in the head by Officer Officer Schwarze in the ensuing struggle.
Both officers were cleared of wrongdoing in October.