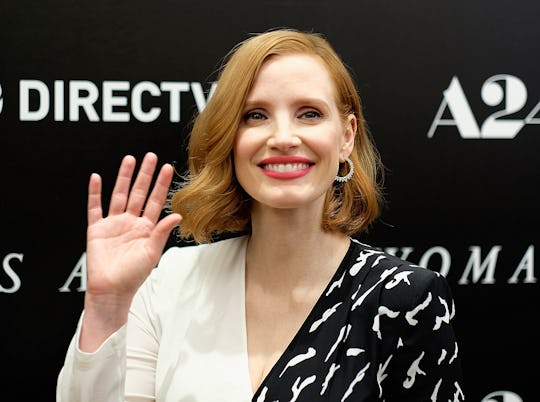 Dimitrios Kambouris/Getty Images Entertainment/Getty Images
Jessica Chastain Secretly Welcomed A Baby Girl Via Surrogate
It looks like congratulations are in order for one Oscar-nominated actress and her husband! Well, belated congratulations, I should say. Because apparently Jessica Chastain secretly welcomed a baby girl via surrogate. And her name is simply gorgeous.
Chastain and her husband, Gian Luca Passi de Preposulo, were spotted with their 4-month-old daughter on the Upper East Side of NYC on their way to a pediatrician's appointment, according to The New York Post's Page Six. The new mom was wearing the infant in a baby carrier as she walked along with Passi de Preposulo — and was eventually joined by another woman, who is possibly the baby's nanny. Their baby girl is reportedly name Giuletta Passi Chastain, according to Just Jared.
As Us Weekly reported, the first hint of a baby came last month when the actress was spotted on Oct. 12 pushing a stroller in Boston as she walked to the set of the upcoming movie, Eve. A white blanket covered the top of the stroller at the time. Just three days after this, Passi de Preposulo was seen toting an infant car seat into a hotel with Chastain and her assistant.
Although fans of the Zero Dark Thirty actress — along with the rest of the general public — have been kept in the dark regarding Chastain's baby news, it seems as if they're taking it pretty well. One Twitter user wrote, "Omg omg omg Love the name," along with a GIF of Will Ferrell from Elf jumping up and down with excitement.
Another Twitter user wrote, "That's gonna be one beautiful baby."
Yet another fan chimed in with, "So Jessica Chastain has a baby? Omg," followed by a slew of shocked/crying/heart emojis.
After more than five years of dating, Chastain and Passi de Preposulo tied the knot in Italy back in June 2017, People reported. She told Extra's Mario Lopez at the Oscars in 2013 (when they were still just dating) that she was "very, very happy" with Passi de Preposulo, according to the publication. "It's a wonderful thing when a career does so well and your personal life goes so well." Other than a handful of times mentioning her now-husband, the actress has mostly refrained from speaking about their relationship. In fact, the actress is "notoriously private" about her life outside of acting, according to the Daily Mail. (She never attends red carpet events with her husband, either.) So it's not exactly shocking that Chastain would choose to keep something as monumental as becoming a mother to herself.
In this day and age of social media — and therefore instant access to sharing information with fans — it's mind-boggling that celebrities can still manage to keep the birth of a child a secret. Although four months is pretty impressive when it comes to keeping quiet about a baby's arrival (for a celebrity, that is), it was recently revealed that another actor actually has Chastain beat. That's because Adam Driver and his wife Joanne Tucker reportedly have a 2-year-old son that they've failed to mention, according to W Magazine. (I still can't believe he's been a father all this time and no one knew!)
Hopefully, paparazzi will respect Jessica Chastain's privacy now that the news is out. You know, instead of relentlessly hounding her in hopes of getting that first clear shot of baby Giuletta. Because despite her fame, Chastain and her family should still have the right to a little bit of privacy. Which is probably why she decided not to shout her baby news from the rooftops in the first place.