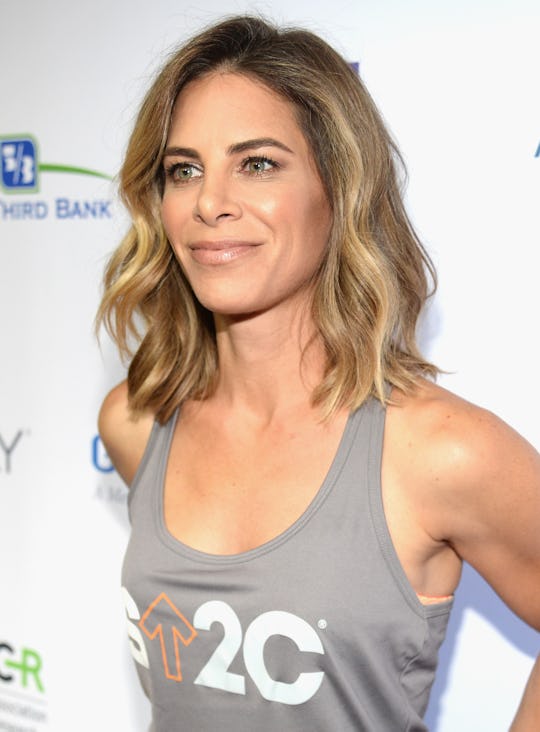 Handout/Getty Images Entertainment/Getty Images
Jillian Michaels Describes Her Fiancee's PPD
Postpartum life is difficult to get to used to, but for women who suffer from postpartum depression it's all the more scary and all the more difficult. And it affects the entire family. In her new book, Yeah Baby!: The Modern Mama's Guide to Mastering Pregnancy, Having a Healthy Baby, and Bouncing Back Better Than Ever, Jillian Michaels said her fiancée had postpartum depression, and talks about how hard it was to offer help.
Listening to Michaels talk about the experience is likely helpful to all new moms. Michaels said of her fiancée, Heidi Rhoades, "I didn't know what was going on. I didn't know how to help her." Rhoades had their first son Pheonix four years ago, and they also adopted Lukensia, their daughter, that same month.
Things were obviously not easy. Michaels told People:
While everybody goes, 'Oh yeah, postpartum, I'm so scared of it,' I don't think they realize that it can come in so many different shapes and forms. I don't think they realize how their significant other might be feeling on both ends.
But writing the book has helped her and Rhoades process their "journey" together, Michaels said:
Peppering in our personal experiences was actually really important because it was a way we could bring light to a certain issue. And I'm hoping it's very relatable and nonjudgmental.
There should be no judgement, ever, when it comes to postpartum depression. Pushing through the stigma, like Michaels seems to be attempting to do, and being able to talk about their experience can be life-changing for new moms and babies. There are a lot of reasons that women don't talk about postpartum depression and most of them have to do with the fear that they'll be labeled a "bad mom." Which is so not the case. There is nothing more normal that feeling depressed and out of sorts after you give birth.
According to the American Pregnancy Association, about 80 percent of women experience a feeling of sadness after giving birth. The "baby blues" can pass for most women, but about 10 to 15 percent of women suffer from more extreme depression. The signs and symptoms of postpartum depression vary woman from woman, but between the lack of sleep and changing (constantly changing) hormone levels, it can be hard to feel like "you" again after birth. And it's hard, as Michaels noted, to know when to reach out and help someone, whether it's your wife or a friend.
With more resources like Michaels' book, having those tough conversations and reaching out for help should hopefully get easier for new moms. There's no shame when it comes to your mental health.