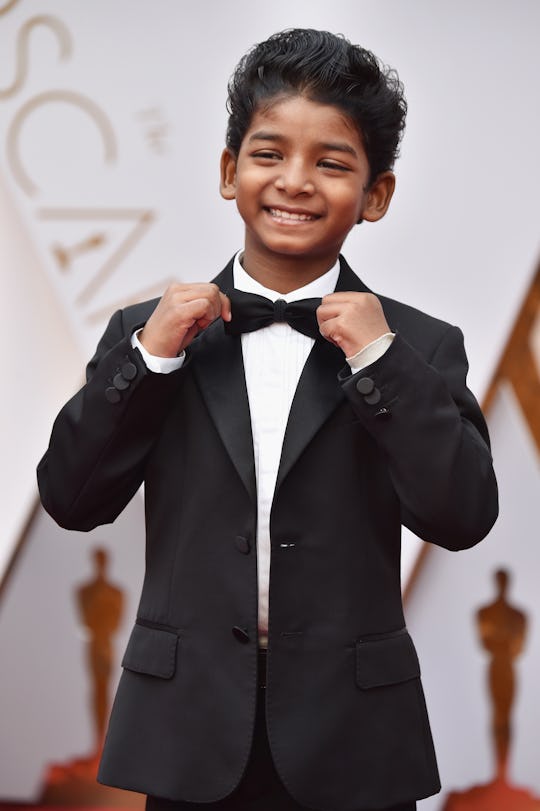 Frazer Harrison/Getty Images Entertainment/Getty Images
You Must See This 'The Lion King' Oscar Moment
If you didn't already love Sunny Pawar, the amazing 8-year-old actor from Lion, seeing Jimmy Kimmel and Sunny Pawar recreate The Lion King at the Oscars probably did it for you. Even if you didn't know the young actor before, his perpetual grin and upbeat attitude makes you want to know everything there is no know about him. So yeah, Kimmel's bit with Pawar was insanely adorable.
The 8-year-old actor co-starred in the Oscar-nominated Lion and not only is the movie his first major role, but it was his first movie role period. And somehow, even when he's no longer in character, the kid manages to kill it. Kimmel's Lion King bit with Pawar at the Oscars began with the host asking him if he enjoyed the movie candy Kimmel had ordered to be parachuted down to the audience.
Naturally, Pawar enjoyed both the Red Vines and the Junior Mints, but as an 8-year-old who can appreciate the finer candies in life, he had a few suggestions for Kimmel. Pawar asked for some Lemon Heads and Mike & Ikes, but not before Kimmel asked some unnecessary questions about Pawar ever seeing the movie The lion King since he co-starred in Lion. Like come on, guy. So Pawar agreed to be Simba in a Lion King reenactment as long as Kimmel delivered more candy to the audience. I guess that's a win-win.
In Lion, Pawar played the younger version of Dev Patel's character, but even though he didn't lead the movie, Pawar has been hard to forget. He's already incredibly talented and when faced with Kimmel's on-the-spot awards show hijinks, he can totally hang. Kimmel asked him to be Simba in a Lion King recreation at the Oscars and Pawar totally allowed himself to be held up as "The Circle of Life" played. And all the while, he was laying out his candy demands into the microphone.
Pawar seems to interact amazingly with literally everyone he meets though, so it's not a total surprise that being included in Kimmel's joke was easy for him. On the Oscars red carpet, Pawar met Chrissy Teigan and the whole thing was adorable. Whatever's next for Pawar as far as movies are concerned, we can only hope that it involves him being the most adorable 8-year-old ever who wows everyone he meets and has the cheekiest smile ever. Basically, he made Kimmel look good in their bit. Because clearly, without Pawar, it wouldn't have been nearly as awesome.