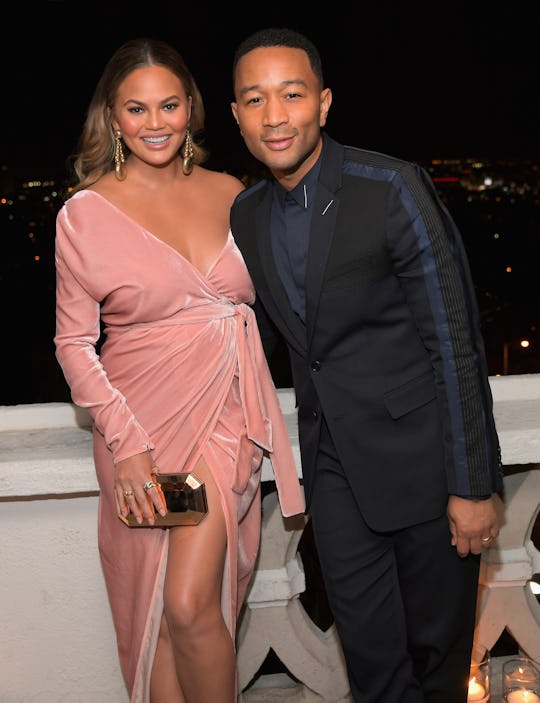 Charley Gallay/Getty Images Entertainment/Getty Images
John Legend Helping Pregnant Chrissy Teigen Pull Up Her Leggings Is Peak #CoupleGoals
Listen, if there's one celebrity couple out there who knows how to completely win over everyone's heart, it's Chrissy Teigen and John Legend. From their social media posts to red carpet charm, the couple knows how to make their legions of devoted followers smile. Most recently? Well, this video of John Legend helping Chrissy Teigen pull her leggings over her growing pregnancy bump proves that these two embody that wild dream of true love and the All of Me singer is seriously, really, and truly a great husband.
On her Snapchat story on Monday, Teigen showed her fans how Legend was helping her get dressed for the day since she was apparently particularly challenged by her growing bump that morning when it came time to throw on a pesky pair of leggings. Teigen, who is expecting her second child with Legend, is not one to be shy about her personal life, and her adorable Snapchat video with her husband is merely the latest in a long series of hilarious and relatable content the model and cookbook author has shared with her fans.
Teigen's latest videos of Legend helping her into a black pair of leggings quickly took over the internet, probably because the two were all smiles as they worked together to get the job done. "All right," Legend said after he completed the challenging task and the video came to an end. But, don't just take my word for it, check out Teigen's video for yourself. It's seriously worth a watch. Or two or three, if you really want to be in a good mood.
As any woman who has ever been pregnant knows, getting into your clothes after that bump starts to grow can be tricky and perhaps a bit exhausting. And Teigen's video proves that it's a challenge even fabulous celebrities have to face. Luckily for Teigen, she has a pretty amazing husband by her side who is there when she needs him. And he seems more than happy to oblige, since Teigen herself is also extremely awesome, sweet, and wonderful and she's a great wife and mother. I mean, she's the one growing a tiny human inside of her and was probably growing a limb or something while Legend was helping her get dressed.
They really are a dream team and their sweet moments together are so worth watching. If you weren't convinced, these people on Twitter will convince you how very enthralled they were with the whole thing.
A Lot Of Fans Wondered Where They Could Find Their Own John Legend
Others Were Just Swooning
Of course, this isn't the first time that Teigen and Legend have been total #RelationshipGoals on social media. When Teigen announced that she was pregnant with their second child, the 32-year-old took to Instagram to share a video of their 21-month-old daughter Luna saying that there was a baby in Teigen's stomach with the clever caption, "It's John's!" To be fair, though, Legend is also pretty clever, as he commented on his wife's video, writing, "Maury will have the final word on this." See? #Goals.
A few weeks ago, Teigen also took to Twitter to explain how her pregnancy hormones were affecting her, and it was (unsurprisingly) oh so relatable.
Teigen's social media usage really has been on fire lately in more ways that one. Besides her now-iconic legging Snapchat video, she also shared a really gorgeous selfie to her Instagram with the (obviously sarcastic) caption, "zero filter none zip zero nada natural all me no makeup." In the photo, Teigen is smiling and looking beautiful while also rocking some pretty flawless makeup. But of course, the internet can not take a joke sometimes and people couldn't tell that she was being sarcastic, so she changed the caption to read:
*caption deleted for apparently undetectable sarcasm*
Yes, she did that.
Once again, Chrissy Teigen remains the Queen of the social media, with John Legend reigning supremely by her side.
Check out Romper's new video series, Romper's Doula Diaries:
Watch full episodes of Romper's Doula Diaries on Facebook Watch.