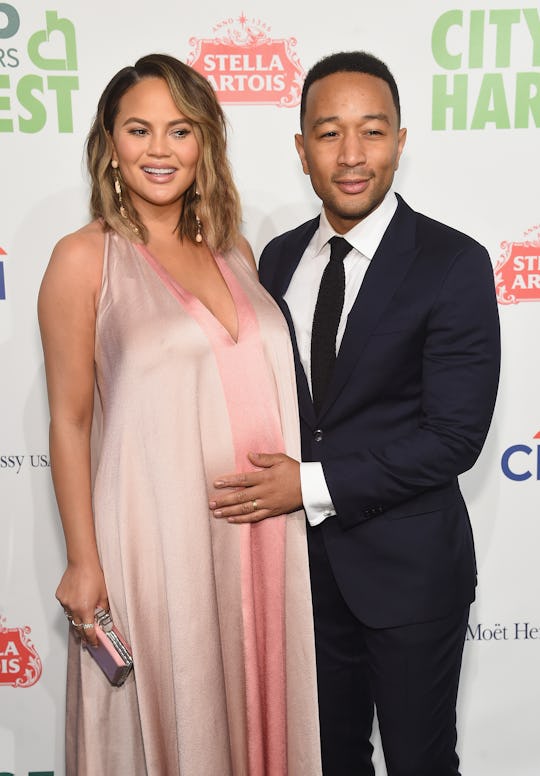 Jamie McCarthy/Getty Images Entertainment/Getty Images
John Legend Opened Up About How Luna Is Adjusting To Baby Miles & Parents, You Can Def Relate
Even since Miles Theodore Stephens was born last week, his mom Chrissy Teigen has been keeping the world updated with hilarious tweets (and a photo!) about life with her new baby boy. Her husband John Legend, however, has gone for a slightly different approach: He has been sharing stories about his family-of-four in red carpet interviews. Most recently, John Legend shared how their daughter Luna is adjusting to baby Miles — an adjustment that's apparently come with both good and bad elements.
The singer opened up about the topic on Monday night, on the red carpet of an Emmy event in Hollywood, where he was promoting Jesus Christ Superstar Live in Concert, as reported by People. "[Luna's] used to having us to herself," Legend told People at the event, referring to himself and Teigen. "I think she's just starting to realize though that he might be competition. So in some ways it's good because she's stepping her game up. She's being more loving, she's singing louder, and dancing harder. She's making sure we don't stop paying attention to her."
Luna, who turned 2 years old last month, is not wrong in her apparent fear that Miles could steal her spotlight. Over the weekend, Teigen shared the first photo of Luna's new younger brother, proving that he definitely has the same genes as the adorable Luna.
It's great to hear that Luna is already adjusting to life as a big sister, considering Legend expressed some nervousness last month. According to Hollywood Life, at the TFF Talks Storytellers panel on April 19, Legend said:
Chrissy is due a month from now. I don't know if Luna is ready ... I don't think she has any idea about being a big sister, actually. My friends keep trying to give me advice, but I think Luna is definitely going to be an issue!
His recent observation that Luna is fighting for the limelight falls in line with another comment he made at the event, too. "She's used to being the center of everything," John said in April, according to Hollywood Life. "We'll see how she shares the spotlight."
To help Luna prepare for her impending big sister duties, Legend took time to read The Brother Book with her. "Prepping for a new arrival!" he wrote on Instagram, alongside an adorable shot of the father-daughter duo reading the book.
This was not the first time John Legend publicly talked about his son since Teigen gave birth last week. At the Billboard Music Awards in Las Vegas on Sunday night, Legend told E! News host Jason Kennedy the meaning behind the name Miles Theodore, as reported by Us Weekly. Legend said:
So Miles, of course, is the same name as the great Miles Davis ... And Chrissy really liked the name Theodore, so we put it all together and got Miles Theodore Stephens. When he came out and we hung out for him for a little, we were like, "He looks like a Miles."
Since Legend was on the red carpet making appearances just days after Teigen delivered Miles, the model took the opportunity to poke fun at him in a way that trolls typically only ridicule mothers. During Legend's BBMAs red carpet appearance Sunday night, Teigen jokingly tweeted: "wow didn't u just have a baby John smh go take care of it !!!!!! disgusting." Her message captioned a shot of baby Miles lounging on her lap, while she watched Legend being interviewed on TV alongside a photo of Miles.
It's clear that John Legend and Chrissy Teigen both love their two kiddos so much, and that they would do anything to help them grow up into good human beings — but first and foremost, they'll do anything to make sure Luna and Miles get along with each other.