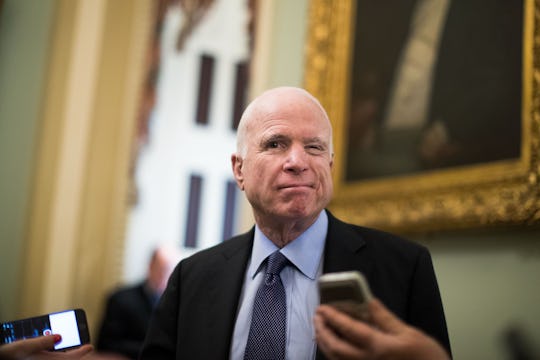 Drew Angerer/Getty Images News/Getty Images
John McCain's Response To Cancer Diagnosis Is So Him
On Wednesday, CNN reported that doctors diagnosed Sen. John McCain with an aggressive form of brain cancer. Following the upsetting news, many politicians on both sides of the aisle sent their condolences to McCain and his family. Although the messages of support noted the seriousness of his condition, they also credited McCain for his strength and fighting spirit. As one might expect, John McCain's response to his cancer diagnosis on Thursday shows he is ready to fight so he can return to Congress... and keep on fighting.
Since the launch of McCain's political career in 1982, he has been described as someone who doesn't give up easily. Although there has been a fair share of debate surrounding McCain's depiction of himself as a "maverick" while on the presidential campaign trail in 2008, there's often little disagreement about his tenacious personality. When politicians discuss McCain's fighting spirit, they often bring up his five-year stint as a prisoner of war in Vietnam.
Morning Joe host Joe Scarborough said, according to The Hill:
He served his entire adult life, for the United States people, of course, and Vietnam. Being a prisoner of war, someone who is allowed by the North Vietnamese to leave because his father was a powerful admiral in the U.S. Navy. But John McCain refused — while he was being beaten — refused to leave and said he wasn't going to go until all of his men could come home with him ... He's been a fighter his entire life.
In McCain's tweet responding to his cancer diagnosis, he exemplified the strong-willed character described by Scarborough and others.
Although it's reasonable to assume McCain would take some time off from Washington, D.C. following his severe diagnosis, it looks like he's not going to give up on politics anytime soon. It's pretty incredible when you consider McCain is an 80-year-old man recovering from a major surgery.
Following McCain's initial surgery on July 14, his colleague and friend Sen. Lindsey Graham said, according to CNN:
I think they relieved the pressure, and he sounded like the old John McCain, dying to get back and talking about driving across the country. I said, 'No.' He's got to heal up or he'll take a step backwards. I think they don't want him to fly for a week. But I think he would walk back if they'd let him. ... He's dying to get back, and for the sake of his family I hope he doesn't have to stay there over a week.
Obviously, there's no telling how long McCain will stay active in politics as he battles his diagnosis. For now, however, it's clear he's not going anywhere.