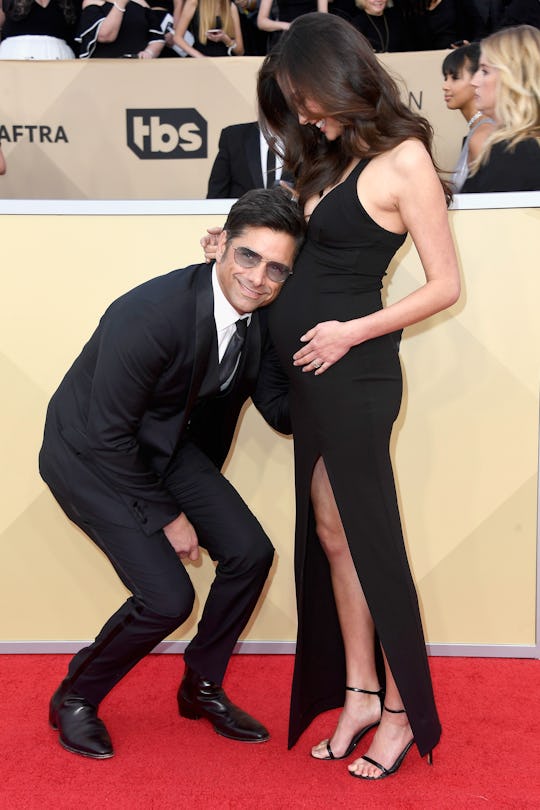 Frazer Harrison/Getty Images Entertainment/Getty Images
John Stamos Shared A Throwback Photo Of His "Baby Bump," & 'Full House' Fans Will Love It
Uncle Jesse may have had twins back in 1991, but John Stamos is only just about to become a dad. Stamos and his wife, actress and model Caitlin McHugh, tied the knot last month, and they are about to become parents for the first time. By the looks of Stamos' Instagram, the father-to-be is super excited. In fact, Stamos recently shared a photo of his "baby bump" from back in his Full House days, and fans are loving the throwback pic.
"This is the longest 9 months of my life! #cantwait 4 #fatherhood," Stamos wrote alongside the photo, which is a screenshot from Full House. In the shot, he's wearing a "bun in the oven" T-shirt over a strap-on baby bump, and he's sashaying across the room a la his on-screen wife, Becky. In the scene on the show, Becky challenges Jesse to wear the 25-pound sympathy bump for an entire day — winner gets to choose the wallpaper for the nursery.
Jesse gives up pretty quickly, and Becky catches him taking off the sympathy bump. So Becky gets to choose clown wallpaper for the nursery, beating out Jesse's Elvis wallpaper. Hopefully if McHugh asks Stamos to rock a sympathy bump, he has a little more endurance than his former on-screen character.
The happy couple announced the news of McHugh's pregnancy in December 2017, according to People. Stamos and McHugh had been dating for nearly two years when they found out they were expecting, and Stamos promptly proposed. "The [pregnancy] happened. Then I said, I better have a ring on her finger because it's the right thing to do, and I wanted to marry her anyway," Stamos told People. "So I called her parents to ask, and it was like, 'You better!'"
He popped the question at Disneyland in October, nearly two months before McHugh publicly announced her pregnancy. For the proposal, People reported, Stamos put together a short film featuring romantic scenes from Disney and Pixar films, concluding with Sebastian from The Little Mermaid encouraging him to "go on and ask the girl" instead of "kiss the girl." By the looks of it, he did both.
"We have the same morals and the same values, that all clicked nicely. So we said, 'Oh, well, maybe we should have a family,'" Stamos told People in December. McHugh even suggested they have a kid before getting hitched. When he asked her why, she jokingly said, "Because you're old." Fair enough — Stamos is 54, and McHugh is 31.
About a month before announcing that McHugh was pregnant, Stamos was quoted saying he really wants to start a family with her. Little did readers know, she was already pregnant with their baby! Stamos told ET in November:
I hope [to have kids]... That's always been my plan. It's just taken me a lot longer than I anticipated. It would be a tragedy if I didn't have children and I finally found the right woman -- the perfect woman.
Both Stamos and McHugh have been documenting her pregnancy on social media over the past few months. When the couple attended the SAG Awards earlier this year, Stamos made headlines for kissing his fiancée's baby bump on the red carpet.
Stamos has also posted several throwback photos of himself as a baby. Alongside a shot of his father gazing at baby John, the actor wrote, "Can't wait to look at my baby like this."
Then, last month, McHugh and Stamos got married. They said "I do" at Little Brown Church in Studio City, California, followed by a reception at Stamos' house, according to People. The couple has not revealed McHugh's due date — so here's hoping that when she finally does give birth, Stamos will treat his fans to baby photos.
Check out Romper's new video series, Bearing The Motherload, where disagreeing parents from different sides of an issue sit down with a mediator and talk about how to support (and not judge) each other's parenting perspectives. New episodes air Mondays on Facebook.