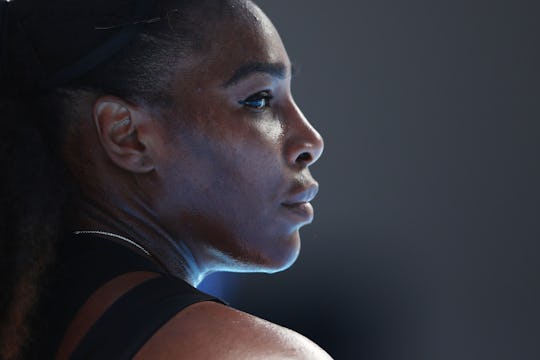 Clive Brunskill/Getty Images Sport/Getty Images
Jokes About Serena Williams' Pregnancy Are Not OK
Exciting baby news in the wide world of sports: Tennis goddess Serena Williams is reportedly pregnant with her first child. The 35-year-old posted a since-deleted Snapchat with the caption "20 weeks" while showing off what looks to be a growing baby bump. Neither Williams nor her fiancé, 33-year-old Reddit co-founder Alexis Ohanian, have publicly confirmed the pregnancy, but the internet is already abuzz with excitement — but folks have also been throwing some seriously awful shade, too. Jokes about Serena Williams's pregnancy just aren't cool, 'mkay?
Being a black woman at the top of her game is apparently too intimidating for some, and even in the wake of such joyous news for the tennis star, there are plenty of people willing to tear Williams down with the very tired, very sexist, very racist joke that's haunted her career. For example, many are continuing to call Williams a man with the added joke that, now that she's pregnant, she must actually be a woman.
One of the more spectacular leaps in mental gymnastics was this astonishingly cruel tweet about Serena Williams: "If you're a man attracted to Serena Williams, you're gay. Point. Blank." I'm sorry, what? Because nothing says internet hilarity like tweeting such a disgusting attack that not only pushes tired-ass gender tropes but simultaneously manages to be unapologetically homophobic. Good on ya.
But Twitter was not to be outdone, with people more than happy to make fun of Williams's baby. You know, because making fun of children who aren't even born yet is hilarious. *gags*
Seriously, who does that? Social media, this is why we can't have nice things. Because really, how does anyone hate on celebrity pregnancy announcements? Can't we just be happy for her? After Williams deleted her Snapchat pregnancy announcement, social media flocked to her Instagram account, specifically to her latest post of a photo of her fiancé holding her in his arms. "Man reading these comments confirms this world is really f*cked up. Smh," wrote one Instagram user in a comment on Williams's latest Instagram post.
Thankfully, there have also been plenty of fans of both Serena Williams and basic human decency who have come out in force to shame the haters.
And this also isn't the first time the world has come to bat — racquet? I'm not good with sports metaphors — for Williams, either. In 2014, Shamil Tarpischev, president of the Russian Tennis Association thought it was hysterical to refer to Serena and her sister Venus as "the Williams brothers" on Russian TV. That didn't go over so well in the sports world, to the point where the Women's Tennis Association condemned the remarks and Tarpischev was banned from the women's tour for a year and fined $25,000. But even in less public forums, some people think it's cool to make fun of Serena Williams. Former NBA player Stephen Jackson confronted a man who allegedly called Williams a "gorilla" in his local gym last year.
Clearly Williams is happy for this incredibly exciting time in her life — newly engaged and newly pregnant — so let's all rally around and celebrate. Oh, and stand in awe, too. If she really is 20 weeks along as she says, that means in January, Williams won the Australian Open while pregnant.
With that realization, I hate to say this, but... Bey? You might have some competition for greatest pregnancy announcement of all time. Regardless, I eagerly await invitations to both of your baby showers, ladies.