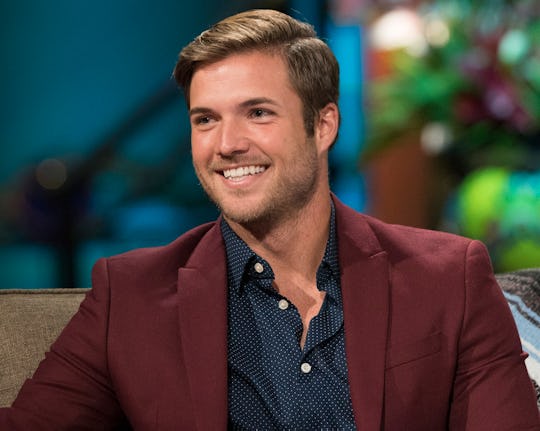 Paul Hebert/ABC
Twitter Is Losing It Over Jenna & Jordan's 'Bachelor In Paradise' Engagement
With just three couples left at the end of Bachelor in Paradise this season, at least one of them was bound to take the next step with a proposal. It was no big surprise that Jordan and Jenna were ready since they were a solid couple for the better part of the season. And when Jordan and Jenna got engaged on Bachelor in Paradise, Twitter was totally supportive.
As a couple, they didn't have the easiest go at it this season. More than once, other contestants tried to get in the middle of what Jenna and Jordan had built together. If it wasn't David, Jordan's rival from The Bachelorette, then it was Benoit, hopeful for the chance to pursue something with Jenna himself. But somehow, they prevailed as one of the stronger couples and made it to the end of the season.
Jordan's proposal wasn't a big surprise for most Bachelor in Paradise fans, but it was hard not to swoon when he told Jenna how much he loves her and how much he wants to start a life and a family together. Even if you were never a big Jordan fan, you kind of had to hand it to him for being there for her all season and being ready to make their relationship work for real.
I'll be honest — when it comes to Jordan, the season could have gone a completely different direction. He didn't seem like he was the most genuine man on The Bachelorette and he initially pursued Jenna when he was still kind of seeing Annaliese on Bachelor in Paradise. But he did a complete 180 and seemed to grow up before viewers' eyes.
I didn't love the way Jordan sort of cast Annaliese aside once he connected with Jenna. At the time, he even essentially told Annaliese that if things didn't work out with Jenna, then he'd try and continue his relationship with Annaliese instead. Needless to say, it wasn't a great look. But as the season went on, Jordan and Jenna's connection was hard to ignore and it seemed so genuine that you had to root for them.
Now that the season is over and Jordan and Jenna are one of the couples who left Bachelor in Paradise engaged, it's easier to see how good they were for each other. Even though I was personally rooting for Grocery Store Joe and Kendall above the other couples, I give Jordan credit for committing to Jenna. And apparently, so does Twitter.
Jenna also seemed to bring out the best in Jordan. Before Bachelor in Paradise, I didn't think I'd ever see Jordan try to console the woman he loves by asking "What can I do for you?" And I definitely didn't peg him as the type to settle down, let alone say more than once that he plans to be engaged just once in his life. Who would have known that Jordan is a total romantic?
Overall, I think most Bachelor in Paradise fans were surprised by how much they ended up rooting for and supporting Jordan this season. He may have still gone on the show with his catchphrases and (over)abundance of confidence he displayed on The Bachelorette, but he also opened himself up to real love. And Twitter was here for that proposal.
It's hard to say for sure if Jordan and Jenna will last well beyond The Bachelor franchise or if their romance will fizzle out in the real world. But they certainly seem like the real deal and they have since their first date at the beginning of the season.