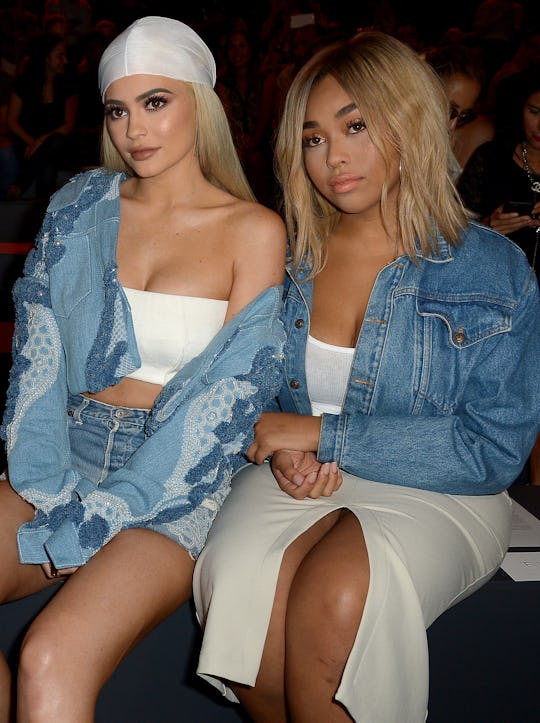 Gustavo Caballero/Getty Images Entertainment/Getty Images
Jordyn Woods Says Kylie Jenner Is Figuring Motherhood Out As She Goes, & Aren't We All?
New mom Kylie Jenner has a built-in support system in her sisters, several of whom are also mothers. Throughout her pregnancy, Jenner also received a lot of support from her friends — namely, her best friend Jordyn Woods. In a recent interview, Woods opened up about how the first few weeks of motherhood have been treating Jenner. Woods explained that Kylie Jenner is figuring out motherhood as she goes, and that's definitely something many new mothers can relate to.
Woods recently attended the Boohoo Block Party in Hollywood with her family. At the event, she told People about what great a job Jenner is doing with baby Stormi, who was born on Feb. 1. "It's just a whole new experience. It's something you never have gone through, but you figure it out as you go," Woods told People. "I think that it takes a really strong woman to carry a child."
Feeling like you're figuring it out day-to-day is a totally normal for new parents. No matter how many parenting books you read or how much hands-on childcare experience you get before having your first child, it's impossible to know exactly what your baby will need until you're in the moment.
And even though both women are the same age (20), Woods doesn't see herself as ready to have a child just yet. "I've put myself in that situation of me actually carrying a child, and it's not easy. It's really not easy," she told People. "So I admire any woman who gave [birth] because that sh*t is crazy," she reportedly added with a laugh.
Unsurprisingly, Woods has spent a lot of time with Stormi since she was born about 7 weeks ago, and she's a huge fan of her BFF's baby. "Everything she does is cute," Woods told People, adding that Stormi is "an angel." According to Woods, Jenner's partner and baby daddy Travis Scott is doing a good job. The outlet asked her if he was a hands-on father, and she said, "Yes, everyone is super proactive, super in it, super excited, healthy, happy, and that is most important."
But even though Jenner's whole world has likely shifted since becoming a mother last month, her friendship with Woods has not changed. "It's definitely the same," Woods told the publication:
If anything, I feel like no matter who you are friends with, no matter what happens, the more you experience together, the more you grow and the more you figure it out. It's just about growing up. We are growing up now and it's cool.
And based on social media, it's clear that the besties have spent a lot of time together since Jenner became a mom. On Feb. 4, the day Jenner announced that she had a baby, Woods shared a photo of the pair from Stormi's baby shower. "Your growth and maturity over this time never failed to amaze me," Woods captioned the shot. "So excited for this new addition! Wifey 4L 💕."
Last week, both Jenner and Woods Instagrammed a series of photos of themselves modeling together, taken by photographer Ray's Corrupted Mind. Woods even captioned one of the photos she posted "babymama."
And earlier this month, Jenner posted a photo on Snapchat of Woods cradling Stormi, captioning it "Can they get any cuter." That same day, Jenner Instagrammed a mirror selfie of the duo in a bathroom, where it looked like they were getting ready for a night out. She captioned the shot, "back at it again."
Based on Woods' comments and her and Jenner's Instagram posts, it's clear the BFFs' relationship is stronger than ever. Not to mention, Woods is already involved in Stormi's life, and it's awesome that Jenner has such a close friend to help her figure things out as she goes.
Check out Romper's new video series, Bearing The Motherload, where disagreeing parents from different sides of an issue sit down with a mediator and talk about how to support (and not judge) each other's parenting perspectives. New episodes air Mondays on Facebook.