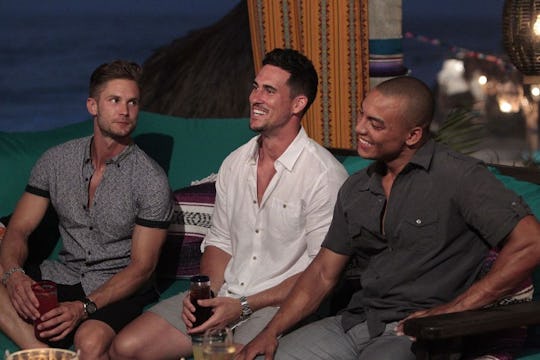 Josh Murray's Instagram Shows The 'Bachelor In Paradise' Guy Cares About More Than Winning
Before people start pointing fingers about whether Josh Murray was in the wrong during his relationship with Andi Dorfman, we need to remember there are three sides to every story. Even Chad Johnson has a softer side, believe it or not, so what you see and hear is not always what is actually happening. Case and point, Josh Murray's Instagram account shows that there is more to him than his past with Andi and his present with Amanda Stanton's mouth. Now, take that how you will, because I know it's hard to honor anything the guy says or does at this point, especially with everything Andi Dorfman said about Josh Murray in her book, but at least outside of Bachelor in Paradise, let's give him the benefit of the doubt for a minute.
Let us humor the idea that there is a side to Josh Murray we don't really know yet. A side that isn't about using making out with a women to make another man jealous for the sake of competition. We all know that Josh played some minor league baseball for awhile and that he is a beast when it comes to competition for the sake of a woman's hand in marriage, but what else is there to know about him? Josh Murray's Instagram tells you everything else you need to know about the interests of the former Bachelorette winner and current Bachelor in Paradise contestant. At least, for now.
His Family
When you're an adult, competing on reality TV competition shows for months at a time, it's probably hard to maintain a lot of friendships, let alone find time for your family, but obviously none of that has stopped Josh Murray from keeping close with his parents and his younger brother and sister.
His Adorable Three-Legged Dog
Recently, Josh had to have his bulldog Sabel's leg removed due to cancer. But even before then, she was obviously the apple of her master's eye. Josh's photos and captions of Sabel on his Instagram are what I imagine they'd be if he had an actual kid and not just a fur baby. But seeing his love for Sabel let's us see another side of him that is a little bit softer and a lot less competitive.
Volunteering For Charity
In addition to volunteering at different children's hospitals, Josh has attended several different charity functions in order to help raise money organizations like Prevent Child Abuse America and Enduring Hearts, a non-profit dedicated to funding research in pediatric heart transplants.
Reliving His Baseball Days
Once upon a time, Josh Murray was a pro baseball player and was drafted in 2002 by the Milwaukee Brewers at the age of 17. He went on to play for a few different minor league teams, ending his career at 23 with the Brevard County Manatees in Melbourne, Florida. But a short-lived pro baseball career hasn't stopped Josh from laying claim to it still, after several years, and posting photos from his baseball days on his Instagram.
Being A Mama's Boy
I know that I mentioned Josh's love for his family overall, but if ever there was a mama's boy, it is Josh Murray. He has several photos of just the two of them at different events or just randomly taken. In one of his captions, he wrote, "She's not just my mother but my best friend as well, I don't know what I'd do without you, I love you mom!"
Josh is known for being competitive in pretty much everything and has set his sights on beating Nick Viall again in the name of love and romance, so you can only assume that it means not much has changed with him since Season 10 of The Bachelorette and his engagement with Andi Dorfman ended. Still, Josh Murray's Instagram tells a different story that you so want to believe.