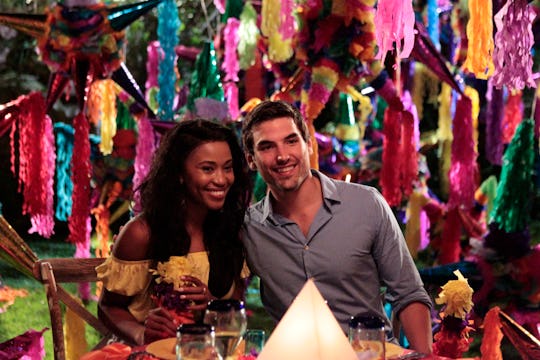 Rick Rowell/ABC
Jubilee & Jared Get The First Date On 'Bachelor In Paradise' & It's Totally Adorable
The third season of Bachelor in Paradise has only just begun, and the show is already off to an absolutely wild start. Between Meat Chad freak-outs, paradise banishments, and hot hookups, it's gearing up to be a wild summer in Mexico for the eclectic group of Bachelor and Bachelorette alums. Almost immediately into the first episode, the contestants started eyeing one another, sizing their potential romantic partners up, and a few solid couples seem to have emerged already. Chad Johnson and Lace Morris, though hot and heavy real quick, are probably not going to be one of those solid couples, but Jubilee Sharpe and Jared Haibon just might be. Jubilee and Jared get the first date on Bachelor in Paradise, and I'm already rooting for them.
From the moment Jubilee set foot on the Bachelor beach, it was so clear that she had one specific person on her mind for romancing this summer. She was one of the first to arrive and spent her time throughout all of the subsequent introductions quickly glancing at who was joining the group and then rapidly losing interest. She confided in Amanda Stanton that she was specifically waiting for "her dude" – one person that she was hoping would show up. She remained zip-lipped about who it was, but when that one guy showed up it was all too obvious.
Jubilee looked... enthused to see Jared when he joined the group, to say the least.
It was clear that Jubilee was crushing on Jared hardcore, without having met him yet. As she clarified later on in the episode, she'd heard a lot about him – everyone she'd spoken to had unanimously said that Jared was one of the nicest people ever, across the board. Clearly, she'd built him up in her head a little bit.
Of course, there was also the specter of Ashley Iaconetti hanging over their heads.
Carly Waddell pointed out that Jared had "a really weird" time last season, in his romance with Ashley I. Carly, also a Paradise alum, seemed concerned that Jubilee and Jared would fall into an unbalanced relationship, like Ashley and Jared had during Bachelor in Paradise Season 2 when Ashley was SUPER into Jared and Jared was lukewarm about it. So that's a worry.
Another issue? Twin Emily, Jubilee's Bachelor BFF, was immediately into Jared as well. She was real sad when the first date card went to Jubilee instead of her and Jubilee immediately called dibs on Jared.
Their first date itself was cute, but nothing special yet. They talked about Lord of the Rings, Jubilee's favorite movie. They were interrupted by a random creepy little clown who jumped out at them and scared the bejesus out of poor Jubilee, which was probably the most memorable and entertaining part of the date. The clown surprise sort of killed the mood, but the two recovered nicely and proceeded to destroy some piñatas together, because there were piñatas everywhere for some inexplicable reason.
Obviously, the two look absolutely gorgeous together and got along nicely, as two friendly, super-attractive people will tend to do. But it remains to be seen whether there will be any long-term sparks – enough to compete with the impending Jared/Caila romance (which was showcased heavily in the extended trailer) and the possible Jubilee/Evan hookup that was hinted at in the trailer as well.