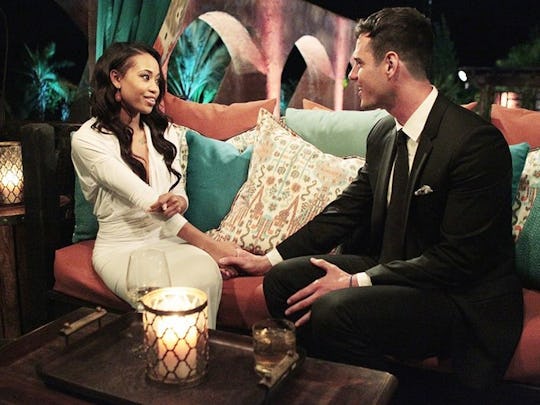 Rick Rowell/ABC
Jubilee Sharpe's Background Totally Explains Why The 'Bachelor' Contestant Is So Tough
To many, it may seem like there is nothing more challenging than living in The Bachelor mansion. But if one contestant will be able to grin and bear it, it's Jubilee Sharpe, whose rough background was revealed recently in a one-on-one date with bachelor Ben Higgins. The moment was an touching one, with both Jubilee and Ben becoming outwardly emotional and the bachelor himself explaining that the revelation had made him believe he could potentially fall in love with the Fort Lauderdale-based Army veteran.
Before the date, Jubilee spoke on camera about her social anxiety, but once she relaxed around Ben, she was anything but awkward. She really opened up over dinner and filled in some of the blanks about her family that more fully explained why she had previously come off as a tough cookie — which, if I'm being honest, she totally is.
Jubilee was born in Haiti but she told Ben on Monday that her entire family had died and that she had dealt "with a lot of guilt," because of it. The circumstances of her family's death aren't very clear, but what we do know is that she was adopted when she was 6-years-old from an orphanage by an American family. At 25, it means Jubilee was likely adopted in the early nineties when Haiti was ravaged by civil war and an American military coup.
Even if her family's death had nothing to do with Haiti's tumultuous past, losing parents and siblings so young and living in an orphanage would not have been an easy way to grow up. Jubilee said so herself during the show's premiere earlier this month, explaining to Ben that her childhood was "rough," and that it was something she'd "had to deal with" extensively.
But Jubilee is pretty good at dealing. The former military member signed up for the Army when she was just 18-years-old and was deployed for a year in Afghanistan. The experience wasn't always easy, as Jubilee noted more than once on her social media accounts. While she was able to hold her own as an active duty soldier, her Twitter feed also documented her time spent overseas and the homesickness that followed.
"BRING OUR TROOPS HOME!" she wrote in a post on May 5, 2011. "I WANNA COME HOME!" In another tweet, Jubilee exasperatedly wrote, "...We are getting ready for [...] redeployment back to the U.S... I'm so F--kn' [sic] excited!"
Despite her evident homesickness, Jubilee was also at the top her game (quite literally) while in the Army and knew how to have fun with her friends to pass the time. "I still have the highest shooting score in my company," she joked in September that same year. "High score held by a female! Hit and don't miss :)."
These days, Jubilee is still an active duty soldier and on her way to winning Ben's heart. On Facebook, she regularly posts pictures of her family and seems to be keeping positive despite everything. In March, she'll graduate from a program in cardio vascular sonography. Her brand of honesty, paired with her laid-back attitude and tendency to avoid drama, seems to have Ben interested too, especially since the this season's Bachelor episodes have been filled with in-fighting, jealousy, and even petty gossip (most recently about Olivia's toes, of all things).
Let's be frank: Jubilee is a survivor in every sense of the word. Like many who have been through very intense situations — whether it's a war, or a loss, or whatever — Jubilee seems to have a solid grasp on what's important in life and what's not. She didn't even fall into the trap of playing any games with the other women on week three, choosing to simply walk away from group drama when the rest of the girl's tried to confront her about what they deemed a bad attitude.
Here's the thing— it wasn't an attitude. Jubilee just has her eye on the prize and isn't going to fight with girls over cocktails. (That's a rookie mistake.) Ben seems to like that she can open to him, keep things real, and not be too pretentious about things like food. So keep it real, Jubilee. No one really likes caviar anyway.
Image: Rick Rowell/ABC; Whipclip; jubilee1991/Instagram