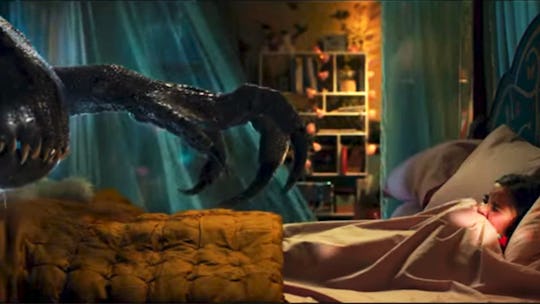 Universal Pictures
'Jurassic World: Fallen Kingdom's Post-Credits Scene Is Worth The Wait
If you're an avid moviegoer, you know that the biggest films always have the best post-credits scenes. Actually, the biggest films are usually the only ones to actually have a post-credit scene... or two! Well, the Jurassic Park franchise is finally jumping on the post-credits train because the latest installment, Jurassic World: Fallen Kingdom, has a very tiny teaser to stick around for. So if you were asking, is there a Jurassic World: Fallen Kingdom post-credits scene? The answer is yes, there sure is — and it sets the stage for what is sure to be a wild sixth film in the franchise.
Before I can get into the post-credits scene, I need to spoil the ending of the film a bit. Consider that your one and only spoiler warning before reading ahead! In short, the dinosaurs are "saved" from a crumbling Isla Nublar and brought to a massive mansion in Northern California. After the bad guys complete their dino heist, they then try to auction off the dinosaurs to bajillionaires from all over the world. If you think that sounds truly bizarre... you're not alone. It is, truly, very . bizarre.
Anyway, as one might expect from watching too many Jurassic Park films, things go terribly wrong and eventually the dinosaurs are released into the wild of Northern California. That means that Jurassic World now has dinosaurs roaming a heavily populated continent, which, if they continue to reproduce, could be detrimental to mankind. But now, onto the post-credits scene!
After some very, very lengthy credits, we finally cut to a bonus scene that shows a couple of Pteranodons flying through the air and landing on top of a tall building with blinking lights. As the prehistoric creatures perch, the camera pans out and we see that they are resting comfortable at the very top of the Eiffel Tower replica in Las Vegas, Nevada. Anyone who lives in California knows that Vegas is a short flight, so it probably didn't take the winged dinos very long to discover America's 24-hour playground.
The clip is short and cuts out almost immediately after the location is revealed, but it 100% sets the stage for what will inevitably be a third film for the Jurassic World franchise. Dinosaurs are now living amongst humans, which means it's pretty much a free-for-all for the carnivores. But, as we have seen in previous Jurassic Park films, that means the dinosaurs are definitely in danger, too. After what goes down in Fallen Kingdom, there will likely be plenty of not-so-great humans trying to trap the dinosaurs for their own financial gain. Plus, think of the poaching and the egg-nabbing that the dinos could be facing.
Overall, it's safe to assume that nothing is, well, safe in the Jurassic Park universe any more. We've watched the dinosaurs come to life, take down a park, reproduce, reside happily within a brand new park, and face-off against volcanoes. But now the stakes are higher, because the dinosaurs have been given access to a land much bigger and more exciting than the one they were raised on. Sadly, there's just no possible way that dinosaurs and humans can co-exist on the same planet anymore, let alone the same continent, as many previous Jurassic Park films have already taught us.
For now, there is no official word on whether or not there will be a Jurassic World 3. There is also no confirmation of whether or not Chris Pratt and Bryce Dallas Howard will be back, either, if a potential third film is made. We'll keep our fingers crossed that we haven't seen the last of those two star-crossed dinosaur lovers — and Jeff Goldblum, for that matter.