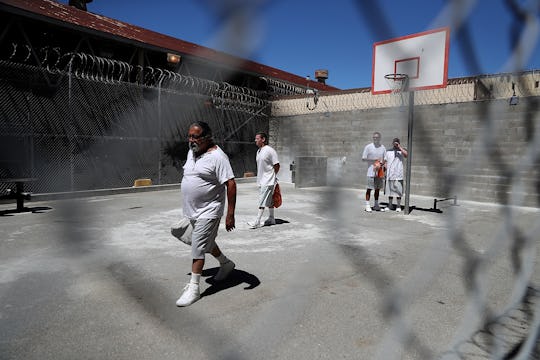 Justin Sullivan/Getty Images News/Getty Images
Justice Department's Private Prison Decision Doesn't Affect Immigration Detention Centers
Well, at least they tried, right? After a lengthy experiment allowing private corporations to run some of its prisons, the Justice Department announced on Thursday that it is moving towards ending its contracts with these corporations or "substantially reducing" those private contracts in the future. While this decision may come as a surprise to some, others might be concerned about the long-term effects of the change and who it will affect. One thing, however, has been made clear: the Justice Department's private prison decision won't affect immigration detention centers, some of the most controversy-plagued of late.
The concept of incorporating private prisons was explored to offset the difficulties faced by a rapidly growing prison population (between 1980-2013, the federal prison population expanded by 800 percent). For the past 10 years, the Federal Bureau of Prisons has been contracting out to privately operated federal prisons to house some of its inmates. Deputy Attorney General explained the Justice Department's decision in a memo released on Thursday. Yates wrote that:
Private prisons served an important role during a difficult period, but time has shown that they compare poorly to our own Bureau facilities. They simply do not provide the same level of correctional services, programs, and resources; they do not save substantially on costs; and as noted in a recent report by the Department's Office of Inspector General, they do not maintain the same level of safety and security.
This news comes on the heels of a report by the Justice Department's Inspector General concluding that privately operated prisons "incurred more safety and security incidents per capita than comparable BOP (Federal Bureau of Prisons) institutions and that the BOP needs to improve how it monitors contract positions in several areas."
While the Justice Department moves to end its involvement with the 14 privately-contracted prisons across the country (although Deputy General Yates said in an interview that the prisons would not close overnight), the closures will "not affect private-run facilities that are used to hold migrants suspected of immigration violations," according to The Los Angeles Times.
The Department of Homeland Security is in charge of detention facilities that house immigrants, and the immigrant advocacy group Detention Watch Network challenged the DHS to also end its ties with privately run prisons. There have been complaints and lawsuits in the past concerning the treatment of migrant children specifically, according to Reuters. The U.S. Immigration and Customs Enforcement has not issued a statement regarding the Justice Department's decision or made any move away from privately-run prisons.