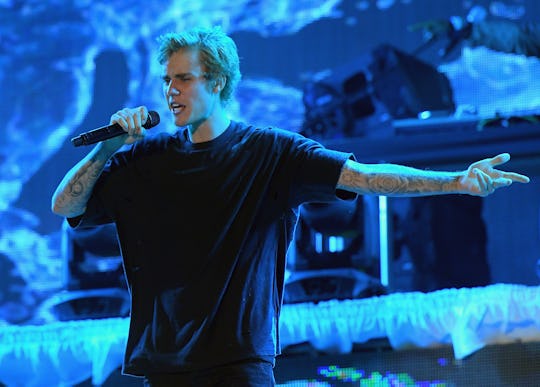 Gustavo Caballero/Getty Images Entertainment/Getty Images
Justin Bieber Wants To Be A Dad One Day, So Get Ready For A Baby Biebs
Last month, Justin Bieber fans were surprised and disappointed to hear that he had canceled the last 15 stops on his Purpose World Tour because of "unforeseen circumstances." Now, the pop icon (sort of) illuminated what those circumstances were in a lengthy message on Instagram, writing that he has allowed "bitterness, jealousy and fear to run [his] life" and that those close to him have helped to "build [his] character back up." Amid all that, Justin Bieber talked about fatherhood — specifically sharing that he hopes his experiences and decisions will help him to become the dad he knows he one day wants to be.
The Biebs had been touring since early last year when he pulled the plug on the remaining shows scheduled in Texas, Colorado, California, and New Jersey, as well as Japan, Singapore, and the Philippines. When he returned to Los Angeles, he told TMZ that what he really needed was to rest, relax, and "ride some bikes." It absolutely sounds as though the 23-year-old "Love Yourself" singer was suffering from some serious burnout, and who can blame him after he performed more than 150 shows on six continents?
He knew he needed to slow down, as he implied in his Instagram post:
Me taking this time right now is me saying I want to be SUSTAINABLE. I want my career to be sustainable, but I also want my mind heart and soul to be sustainable. So that I can be the man I want to be, the husband I eventually want to be and the father I want to be.
It's clear from his post that Bieber is working through some stuff — and that he's doing what he can to put his mental and physical health first, which is so important and laudable. He's also unabashedly sharing his self-improvement journey so his fans know exactly where he's coming from. So when I read that Bieber is learning that his "past decisions and past relationships don't dictate his future decisions and future relationships," I think, Good for him! Ditto when he wrote that, instead of being ashamed of his mistakes, he plans to grow from them.
Of course, the talk of past missteps seem to tie into his past legal trouble, including a 2014 DUI, rather than the shortened tour, but it's all part of the narrative of the singer's life. And so is the fact that he really wants to be a dad, which makes his whole meandering, somewhat garbled message to fans seem even more "FROM THE HEART," as he wrote.
Bieber may still be in the process of growing up, but he's long maintained that he wants to bring at least one baby Biebs into the world. Way back in 2011, when he was just a teenager, he said that he hoped to be married and getting ready to start a family by the time he was 25 or 26. "I want to be a young dad," Bieber told Women's Wear Daily at the time. "I want to be able to have done what I wanted to do – to be successful, to do a movie or whatever."
Five years later, he had bumped that timeline a little, telling Glamour in March 2016 that he'd "love to be settled down by the age of 30." When it comes to what he values in a partner, it's simple: "A genuine heart and great sense of humor."
Honestly, despite the minor snafu when he met DJ Khaled's baby son recently, I think that Justin Bieber will make a fantastic father when he's ready. Sure, his youthful screw-ups ballooned into national headlines because of his megastar status, but he's clearly introspective, thoughtful, willing to accept help from others, and dedicated to making himself a better person. Those are pretty good qualities for someone tasked with raising another human — one day.