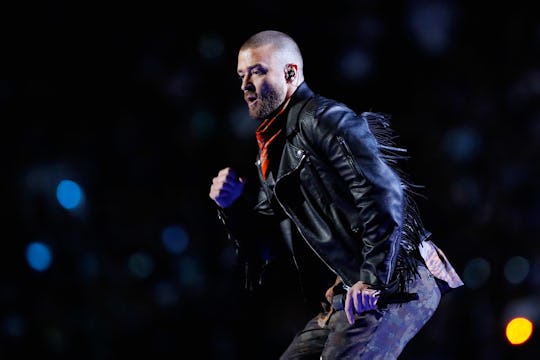 Kevin C. Cox/Getty Images Sport/Getty Images
Oof, Justin Timberlake Made A Subtle Janet Jackson Reference At Halftime
So Justin Timberlake performed at the Super Bowl halftime show, and it reminded a lot of people of the last time he performed on the same stage. You know, the one with the wardrobe malfunction featuring Janet Jackson. Well this year Justin Timberlake's Janet Jackson reference at halftime was super subtle, but Twitter still caught it. In case you need a refresher, 14 years ago Timberlake and Jackson performed at the Super Bowl and right in the middle of "Rock Your Body," an unfortunate tug by Timberlake on Jackson's shirt caused her nipple to be momentarily exposed. Nobody has forgotten it since, and Jackson's career took a major hit.
Though I don't believe he intentionally exposed Jackson's breast to the whole world, I do feel that Timberlake bears most of the responsibility for the accidental nudity. So when it was announced that he would be performing at the Super Bowl but Jackson would not, people were understandably upset. During his performance, Timberlake sang at least a few bars of all of his major hits, including "Rock Your Body," the song he and Jackson were performing during "nipplegate." Whether this was intended to be a tribute or it was an oversight, rest assured that the world on Twitter definitely noticed, as they tend to do.
While some Twitter users saw Timberlake's use of the song as a shoutout to his erstwhile co-performer, a lot of others simply saw the use of the song as being in poor taste. There is an argument to be made that her exposed nipple effectively ended Jackson's career as a pop musician. So for Timberlake, who suffered literally no negative repercussions after the incident, to be invited back to the Super Bowl and perform the song that had a negative impact on Jackson's career, well it struck a lot of people as being a really bad move. And I can't say I don't get where they're coming from to be completely honest.
Others believed that perhaps Timberlake's constant shoutouts to Minneapolis was a subtle nod to Jackson. After all, it's an important location in Jackson's career, as it's where she recorded her hit album Control at Flyte Tyme Productions Studios, according to Go MN.
Then again, the Super Bowl was actually being held in Minneapolis, so shouting out the city was hardly odd. If the Super Bowl was in, say, Arkansas or something and Timberlake was shouting out to Minneapolis then it would have been easier to consider that a shout out to Jackson. As it is, maybe it was. But more likely it was just because he was in Minneapolis.
Suffice it to say that though he was the halftime performer, Timberlake was probably not the most popular person in the stadium at the Super Bowl. People were so irritated that Jackson wasn't invited back even though Timberlake was, Jackson fans took over Twitter with Janet Jackson Appreciation Day. The movement was so popular that #JanetJacksonAppreciationDay was actually trending on Twitter right up there with Super Bowl for the entirety of the game. I gotta admit, I love that.
Whether he meant it as a nod to Jackson or was simply a little tone deaf, "Rock Your Body" was hardly the only song that Timberlake performed at the game. He sang a medley of all his hits, including "Can't Stop the Feeling" and my personal favorite, "Señorita," as well as a tribute to Prince with not a hologram, but a giant projection on a large sheet.
However you felt about Timberlake's performance at the Super Bowl halftime, I think there's just one solution now that will please everybody. Let's have Ms. Jackson perform at next year's Super Bowl.
Check out Romper's new video series, Romper's Doula Diaries:
Watch full episodes of Romper's Doula Diaries on Facebook Watch.