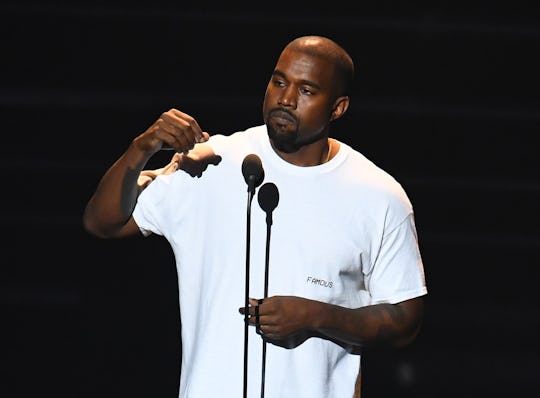 JEWEL SAMAD/AFP/Getty Images
Kanye West Is Recovering After His Hospitalization, & It's Good To See
Kanye West is back, and he's blond, and he seems to be reintegrating into both his public and private lives after a 9-day hospital stint following some bizarre and erratic onstage behavior at concerts last month, and subsequently cancelling the rest of his Sant Pablo tour. Judging by recent sightings of the rapper and accounts from those close to him, Kanye West is seemingly recovering after his hospitalization at the UCLA Medical Center for "temporary psychosis due to sleep deprivation and dehydration," as TMZ reported shortly after West's emergency admission there Nov. 21. A representative for West did not immediately respond to a request for comment on the "Famous" star's progress, nor his reported history of mental illness.
West was released from the hospital where he had reportedly been "really eager to make music and to work even from the hospital bed," as an unnamed source told People, on Nov. 30, but he didn't make a public appearance until Thursday. That's when he attended a Los Angeles art exhibit and unveiled his newly blond hair. And over the weekend, he attempted to keep a low profile while riding BMX bikes with friends by wearing a black helmet that covered his entire head and face. One anonymous "insider" even told People that the bikes may have been designed by West himself.
West evoked a range of scorn, derision, and pity from his fans and detractors alike for his strange rants at two California shows last month. In San Jose, he told the crowd that he would have voted for Donald Trump in the recent presidential election if he had opted to vote at all, and later said that black people should "stop focusing on racism." Just two days later, at the Sacramento stop of his tour, he delivered a confusing monologue railing against high-profile figures like his friend and collaborator Jay Z, Beyoncé, and Hillary Clinton, before ending the concert after just about a half an hour:
But sometimes, we be playing the politics too much and forget who we are just to win. F--k winning. F--k looking cool. F--k looking cool. F--k being cool. F--k all that, bruh! I've been sitting here to give y'all my truth even at the risk of my own life. Even at the risk of my own success, my own career. I've been sitting here to give y'all the truth.
Now, though, West seems to be doing much better, as French Montana — who dated West's sister-in-low Khloe Kardashian in 2014 and says he is still close with the family — told Entertainment Tonight Friday. "He's doing great," the hip hop artist said:
He's a, he's a strong guy. He's been through a lot and you know, this is just another hurdle in the way, you know what I'm saying? I mean I love everything he been doing, man. I feel like he's speaking the truth, you know what I'm saying? I'm with him, that's my big brother.
Of course, the public doesn't know all of the details of this particular "hurdle," nor should we. West is living his life, with all its triumphs and setbacks, under the unrelenting microscope of media coverage and public scrutiny, which undoubtedly compounds the challenges of an already tough situation for him and his family, which includes two young children. For now, it's enough to know that Kanye West is doing much better, and will likely reflect on his current struggle in the form of songs or even an entire album.