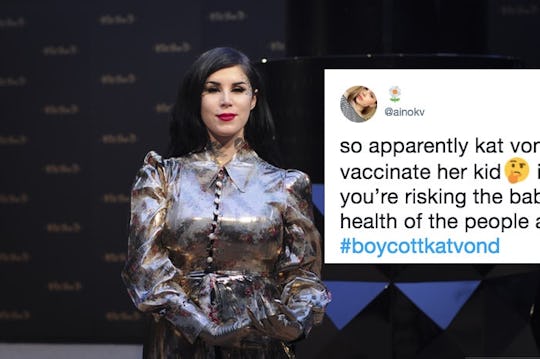 Vivien Killilea/Getty Images Entertainment/Getty Images
People Are Boycotting Kat Von D's Makeup Line After She Revealed She Won't Vaccinate Her Baby
Kat Von D recently announced that she's pregnant with her first child, which meant that she was immediately faced with a lot of people on social media offering their unsolicited advice and critiques. As people tend to do with celebrities. In response to the onslaught of opinions, Kat Von D revealed that she's not vaccinating her baby and since then, people have taken to social media to say that they'd boycott her makeup line in response, as Marie Claire reported. Romper's request for comment from representatives for Kat Von D, LVMH, and Kendo, the houses that manage her cosmetics line, were not immediately returned.
Von D and her husband Rafael Reyes announced that they were expecting their first child, a baby boy, via social media last month. In response to peoples' interest in her pregnancy, Von D posted a selfie on Instagram last week with a lengthy caption. "I knew the minute we announced our pregnancy that we would be bombarded with unsolicited advice," she began. "Some good and some questionable — unsolicited none the less. I also was prepared for the backlash and criticism we would get if we decided to be open about our personal approach to our pregnancy."
She added in her post that she's been criticized for wanting "a natural, drug-free home birth in water with a midwife and doula," and that she's prepared for more critiques for having the "intention of raising a vegan child, without vaccinations."
While many people lauded her for going the home birth route and raising a vegan, just as many voiced their outrage at the idea of the celeb not vaccinating her child.
Editor's Note: The Instagram post has since been deleted.
She added in her caption:
I already know what it's like to make life choices that are not the same as the majority. So your negative comments are not going influence my choices — actual research and educating myself will — which i am diligently doing. This is my body. This is our child. And this is our pregnancy journey.
Her Instagram comments have become a huge mess, with the anti-vaccination community sparring with those who stand by the science of vaccinating children to protect them, and others, from preventable diseases. On Twitter, people spoke out about not wanting to use her cosmetics anymore as a result of her anti-vaccine stance.
#BoycottKatVonD Has Since Taken Off On Twitter
Von D has made it apparent through her caption that she doesn't seem to care what people think about her choices. And she has been very vocal in the past about her own personal politics — and even disqualified a contest winner for a Kat Von D Beauty release because it was revealed they were a Donald Trump supporter, as reported by Teen Vogue. So, she understands what it means to stand up for your beliefs, no matter what. But there's a reason that her decision to not vaccinate her baby has caused such outrage: abstaining from vaccinations will not only put her own child at risk of contracting a preventable disease, according to Parents, but it could also put others in danger.
Because of what researchers call "community immunity" or "herd immunity," it's important for everyone to get vaccinated for preventable diseases so that those who cannot — like people with weak immune systems such as pregnant women or newborns — don't get sick, as the Department of Health and Human Services explains on its website.
Doctors and researchers agree that vaccines are safe for children and do not lead to autism or other illneses, according to the Centers for Disease Control and Prevention. The CDC explains:
Like any medication, vaccines can cause side effects. The most common side effects are mild. On the other hand, many vaccine-preventable disease symptoms can be serious, or even deadly. Even though many of these diseases are rare in this country, they still occur around the world. Unvaccinated U.S. citizens who travel abroad can bring these diseases to the U.S., putting unvaccinated children at risk.
Von D's stance on vaccinations, and the reported boycott on her brand, may or may not hurt her bottom line. But not vaccinating her kid could end up affecting him or someone around him.