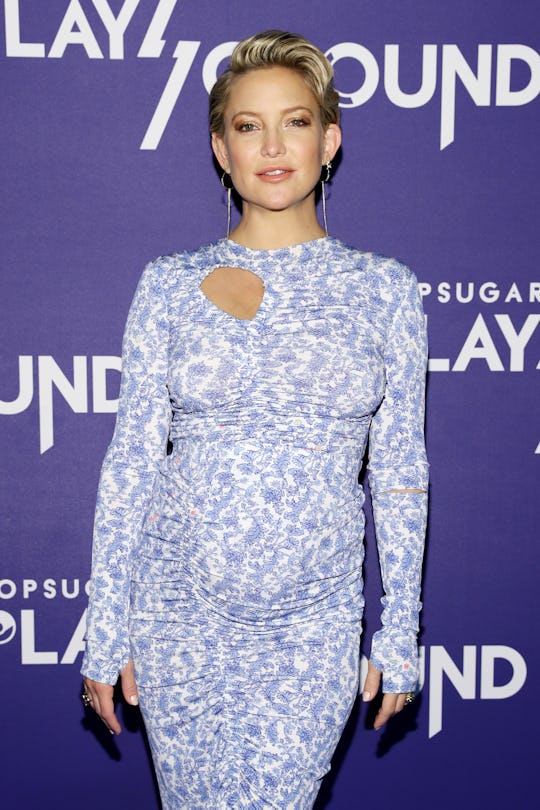 Cindy Ord/Getty Images Entertainment/Getty Images
Here's Everything We Know About Kate Hudson's Final Countdown To Delivery
Kate Hudson is nearing the end of her pregnancy, and after months of anticipation, fans are getting excited to see Hudson and her family finally welcome the little girl they have been waiting for. Though there are so many questions that linger (When, exactly, is she due? Did she go into labor already?) there's a lot of information we do know. Here's everything we know about the final countdown to delivery.
In April of this year, Hudson announced her pregnancy and the sex of the baby in tandem, as she uploaded a video of herself and some friends and family members popping open black balloons to reveal pink confetti and decorations.
"SURPRISE!!! If you've wondered why I've been so absent on my social channels it's because I have never been more sick! It was the most sick first trimester of all my children. Boomerangs have made me nauseous, Superzoom is an easy way to have my head in the toilet, food Instagrams make me queezy, and thinking too much about Insta stories made me even more exhausted than I already had been," Hudson explained in the caption.
"We have been trying to keep this pregnancy under the radar for as long as possible but I'm a poppin now! And it's too darn challenging to hide, and frankly hiding is more exhausting then just coming out with it! My kids, Danny [Fujikawa], myself and the entire family are crazy excited! A little girl on the way!"
Though Hudson has not shared what her exact due date is, during an appearance on The Ellen DeGeneres Show earlier today, she told Ellen she was probably "the most pregnant person" that had ever been on the show. When Ellen inquired as to when she'd be delivering, Hudson followed up by saying it's pretty much any minute now, and there's even a chance her water could break while she was on the talk show's stage.
Hudson appeared on the show with her mother, Goldie Hawn, and the two exchanged some funny stories about her previous deliveries. (People reported Hawn brought her daughter a magnolia flower that was meant to be a metaphor for her vagina, and left the room to go get pizza and Doritos because she needed a snack.)
If that wasn't enough TMI for one pregnancy, fret not, because Hudson has been super transparent about her experiences and what she's doing to get through the third trimester... such as doing yoga and dreaming of her first martini after she's given birth.
Despite all the jokes, it's clear that Hudson is ready to be a mom again, and that she's remained super close with her own mother throughout the years.
In fact, Women's Health reported that this past Mother's Day (a month after she announced her pregnancy) Hudson posted a super sweet message to Hawn, thanking her for everything she'd done over the years.
"When you grow up with a smile like this you are raised to find the joy in every moment," Hudson said. "I know I feel the kind of strength to live fearlessly because of her. I know that I have never feared paving my own path because of her. I know I feel deeply unconditionally loved because of her. I also know that every mother is capable to give this to their children. She taught me that the love of mothers shape the future. Not through expectations but through love and honoring your children's individual journey. To my great teacher, Happy Mothers Day."
With the countdown to baby reaching the very end, fans and followers will have to stay tuned to see when Hudson finally delivers.