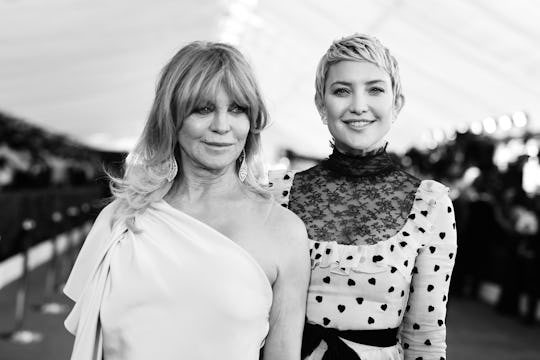 Emma McIntyre/Getty Images Entertainment/Getty Images
Kate Hudson Received A Very Unique Delivery Room From Her Mom, Goldie Hawn
When you're getting ready to deliver a baby, hopefully, you're receiving support from many different people in your life. Maybe you have a partner, maybe you have enlisted a trusted team of medical professionals, or maybe you have your mother walking into the hospital with an oversized flower that is meant to be a metaphor for your vagina. Kate Hudson received a very unique delivery room gift from her mother, and the story is almost too funny to be real.
Hudson, who People reports is pregnant with her third child and is due to deliver any day now, sat down with her mother Goldie Hawn on The Ellen DeGeneres Show to talk about all things life, love and new motherhood.
But before the mother/daughter duo get ready to welcome a new child and grandchild into their family, they reflected on Hudson's deliveries past, and namely, what a riot Hawn was throughout them. "I got hungry!" Hawn said, explaining that she left the room for a snack. "She was in the stirrups and everything and was dilated. So I said, 'I'm really hungry, I'm just going to come back,' I came back with pizza and Doritos."
But that wasn't all. She also came to the hospital bearing a huge magnolia flower, which she hoped her daughter would view as a metaphor. "She wanted me to think of my vagina as a magnolia flower," Hudson said. "And I was like, 'I never want to think of my vagina that big ever.'"
Despite how outstanding those memories may seem, Hudson claims that wasn't what she remembered most vividly about her mother's presence while she was giving birth. Hudson went onto say that her mother was actually trying to plan a day at the pool while she waited to deliver her son. "[She] said, 'I'm about to take a swim and I was going to get a message,'" she said, "How long do you think you're going to be laboring?'"
All the jokes aside, it seems like Hudson is really well prepared for her third pregnancy.
In an interview with Women's Health, Hudson opened up about the fact that her morning sickness is her body's way of telling her to slow down and take it easy. It's "all about tuning in and listening" to the body, she says. "The stakes are higher because it is not about you anymore, it is about this other being growing inside of you, but right now she is kind of letting me know that we have to take it easy," she continued. "So I'm doing a lot of walking, I'm doing some amazing prenatal yoga that I'm loving, which I've never done with my pregnancies. So this is a first and it's been amazing, but slow and steady."
When Hudson announced her pregnancy earlier this April, CNN reported, she made mention of the fact that she did feel more sick to her stomach than with any of her other kids.
"SURPRISE!!! If you've wondered why I've been so absent on my social channels it's because I have never been more sick!" she wrote in the caption of her Instagram post, which was a video that revealed her baby's sex. "It was the most sick first trimester of all my children. Boomerangs have made me nauseous, Superzoom is an easy way to have my head in the toilet, food Instagrams make me [queasy] and thinking too much about Insta stories made me even more exhausted than I already had been."
But now, as her pregnancy winds down and she prepares to welcome a new daughter into her life, Hudson seems nothing but excited. As for whether or not Hawn will be back with oversized flowers and badly timed pizza runs? It's yet to be seen.