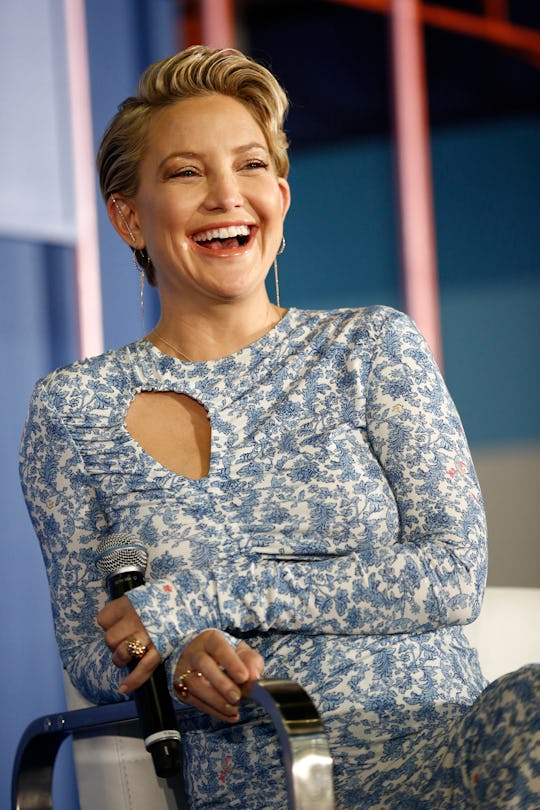 Brian Ach/Getty Images Entertainment/Getty Images
Kate Hudson Shared The *Cutest* Photo Featuring Her Bump At 30 Weeks Pregnant
While she's been vocal about her joy of soon welcoming a third child to her brood — her first daughter! — Kate Hudson's newest bump photo at 30 weeks pregnant will make you ever more excited for the actress' baby girl to arrive in just a few short months. In the new photo, Hudson poses with her equally-expectant friend, both wearing the most adorable bikinis, and you can see her growing bump in all its glory.
"What a blast celebrating the big Dirty Thirty to my bump buddy last night!" Hudson captioned the photo of her with friend and fellow mom-to-be Jamie Mizrahi, a stylist and creative director at Juicy Couture, according to People. "Hang on to your hat, it's gonna be a crazy year!!!
The 39-year-old movie star has been posting regularly about the progress of this pregnancy, which will be her first with musician boyfriend Danny Fujikawa, according to Women's Health. Hudson is already mom to two sons, 14-year-old Ryder Russell (whose dad is the Black Crows' Chris Robinson) and 7-year-old Bingham Hawn (whose papa is Matt Bellamy from Muse), according to Women's Health. Adding a daughter into the mix will certainly be exciting for this busy and always-upbeat mama, who always looks so fashionable, if not more, when she's pregnant. She just seems to have the energy to juggle a brood of multiple ages, right?
This isn't the first time Hudson has shared a bump photo with a pregnant pal. Funnily enough, back in May, the star posted a boomerang with her friend, Angi Fletcher, on Instagram. She captioned the adorable post, "14/15 years ago when me and one of my best girlfriends were having our first babies, little did we know 15 years later we would be weeks apart both on number 3!"
Clearly, Hudson has lucked out in finding friends who are also expecting at the same time as her, who she can hang with and relate to during their respective pregnancies, and mutually support, post-baby.
Hudson's pregnancy journey with her future baby girl got off to adorably exciting start. A couple months ago, when she first announced her pregnancy to the world, Hudson shared a video of her fun sex reveal on Instagram, showing the star and her family popping black balloons with question marks on them, which revealed teeny pink balloons and confetti inside and the whole gang bursting into happy screams and hugs.
More recently, Hudson shared another photo of her bump while doing some meditating... and visualizing about her first cocktail post-pregnancy, resonating with fellow expectant mamas everywhere.
"Visualizing and connecting to a healthy birth and my first filthy dirty martini 🍸," she captioned the Instagram photo, shared last month.
As for when Hudson is due? As the INQUISITR reported on Monday, Hudson is about 30 weeks pregnant right now and with the average length of a pregnancy lasting about 40 weeks, the actress should welcome her daughter-to-be this fall, perhaps at the end of September.
Following along with Hudson as she prepares to welcome her baby girl has been especially exciting for me. Ever since the star had her oldest just before I had mine, it's been fun watching her journey as a mom. And her parenting approach seems to be going just great for her family. "I think I'm an easy-going mom but I'm pretty strict too when it comes to manners and things like that," she told The Independent in 2016. "I love being a mom."
What's more, Hudson's photography on Instagram is beautiful, and there are several snaps showing her holding a camera, so you know she'll be all over taking gorgeous baby photos. Well, one can hope!