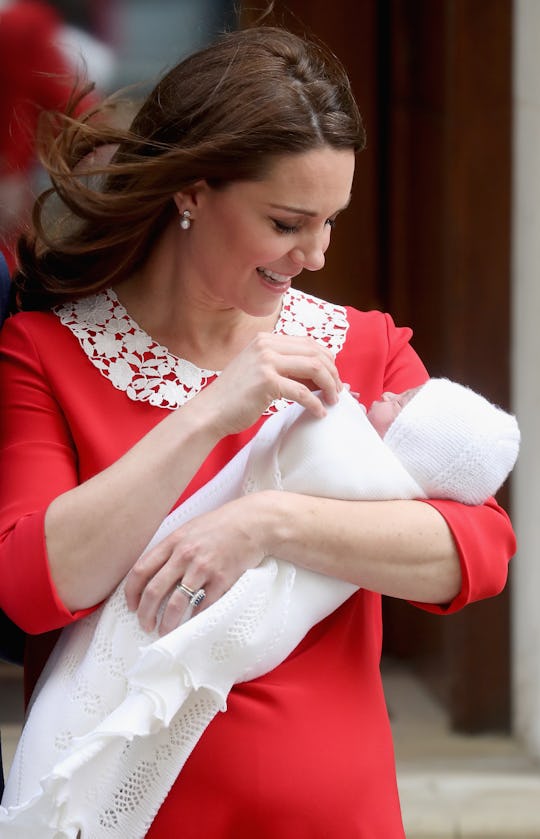 Chris Jackson/Getty Images Entertainment/Getty Images
Kate Middleton's First Appearance After Maternity Leave Might Be Sooner Than You Think
The Duchess of Cambridge might be officially on maternity leave right now, but it's not like she just gets to hang around relaxing or anything. She has two older children at home who are in the midst of heading back to school, so we all know that's not exactly a walk in the park. Plus let's face it, keeping her hair perfectly blown out at all times is basically a full-time job of its own. Still, she's hopefully been enjoying her time away from official duties. Because Kate Middleton's first appearance after maternity leave with Prince Louis is probably just around the corner, and chances are it's going to be at another royal wedding. So I hope she's kept up with her blow out game.
According to Emily Andrews, who hosts the royal podcast, On Heir, Middleton is expected to return to official duties around the beginning of October, which is just weeks away. And the timelines makes sense, considering she gave birth to Prince Louis on April 23; this would give the mother of three approximately six months of maternity leave. As Andrews wrote on Twitter, the royal season in general is revving back up now that summer holidays are over.
"This time of the year, you do see a massive uptick in the number of royal engagements. We're getting engagements now with William, Harry, Meghan. Nothing yet on Kate. We understand that we will start seeing a return to her work in October."
Even though the entire royal family has been on something of a summer break, it's not like they've exactly been completely out of the public eye or anything. In fact, Harper's Bazaar recently reported that Middleton had her two older children, 5-year-old Prince George and 3-year-old Princess Charlotte, out shopping for back-to-school items.
Prince George started his second year at Thomas's Battersea in London on Thursday, while Princess Charlotte started her second term at Willcocks Nursery School on Wednesday, according to People. Which hopefully means Kate Middleton got to enjoy a few blessed hours along, napping with Prince Louis in the afternoon or something.
Middleton was also seen at the wedding of her brother-in-law Prince Harry to Meghan Markle in May, when she was officially on maternity leave, but apparently that doesn't count as an official engagement, as royal biographer Duncan Larcombe told Harper's Bazaar earlier this year. Probably because everyone has to go to family weddings no matter what, I guess. Also both of her older children were in the wedding party and her husband was the best man, so it made sense for her to be there.
Kensington Palace hasn't released information regarding Middleton's first official engagement following her maternity leave, but I feel it's safe to assume she will be on hand for at least one big event: Princess Eugenie's wedding to Jack Brooksbank on Oct. 12, according to The Telegraph.
The wedding is set to take place at St. George's Chapel in Windsor Castle, according to The Telegraph, much like the wedding of the Duke and Duchess of Sussex, and the entire royal wedding is expected to be in attendance.
That's right, everyone. We're getting two royal weddings in one year. And, if we're lucky, it looks like we'll be getting a whole lot more Kate Middleton in the near future as well. Although I have to say, I'm sad for her that her maternity leave is coming to an end.
Middleton is lucky, of course, because she will have a nanny on hand to watch over little Prince Louis while she's out on official duties. The family has employed Maria Theresa since welcoming Prince George in 2013, according to PopSugar, so it's not like she's a stranger to the kids which is super helpful.
Even on maternity leave, though, Middleton still attended plenty of events, like that time she and her new sister-in-law Meghan Markle went to Wimbledon to watch the women's finals together and made everyone gloriously happy.
Maybe she should just take another six months off and surprise us all with pop up appearances... how exciting would that be?