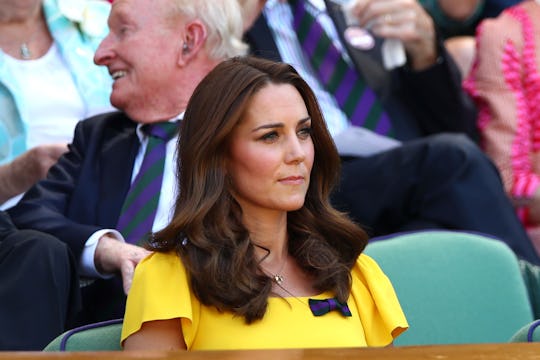 Clive Brunskill/Getty Images Entertainment/Getty Images
Kate Middleton's Maternity Leave Is Ending, & Her First Work Engagement Is Fitting
In April, Prince William and Kate Middleton, Duke and Duchess of Cambridge welcomed their third baby, Prince Louis of Cambridge. Since then, the Duchess' public appearances have been limited to family engagements, such as Prince Louis' christening and her in-laws' royal wedding. But now, five months later, Kate Middleton's maternity leave is ending, and her first work engagement as a mom-of-three has been announced.
On Wednesday, Kensington Palace tweeted that Kate's next engagement will be with The Sayers Croft Trust next Tuesday. The Surrey-based charity aims to get young people, namely those who have disabilities or financial troubles, to appreciate and tend to the environment, according to its website. "The Duchess of Cambridge will visit the @SCTrust Forest School and Wildlife Garden at Paddington Recreation Ground on Tuesday 2nd October," Kensington Palace tweeted, alongside an appropriately-chosen photo of Kate amongst nature. It's rather fitting that Kate's day off from the kids will involve... more kids.
Royal correspondents Emily Andrews and Rebecca English both elaborated on the return of the Duchess on Twitter, confirming that this would be Kate's first public duty after her maternity leave. Andrews predicted that October would mark the end of the Kate's maternity leave on her podcast On Heir a few weeks ago, according to her tweet, so die-hard royal fans probably aren't too surprised to hear the news.
Kate may have had a cozy 22-week maternity leave, but Prince William's paternity leave was far a little more rushed. The Duke allegedly took two weeks off after Prince Louis was born, the Daily Mail reported. That sounds pretty short, but it's actually the norm in the United Kingdom. According to the United Kingdom's government services site, gov.uk, those who qualify only get one to two weeks of paid paternity leave. Mothers can take up to 52 weeks of maternity leave, while making about 90 percent of their average weekly earnings for the first six weeks, and a flat rate of nearly $200 USD weekly for the rest of the year, gov.uk notes.
However, Prince William was already back in action just two days after Kate gave birth. Along with Prince Harry and Meghan, Duke and Duchess of Sussex, Prince William attended the Anzac Day memorial service at Westminister Abbey, Time reported. He probably shouldn't have pushed himself to make the service, considering the fact that he was caught on camera drifting off to sleep in his seat. Can you really blame him, though?
The Duke and Duchess of Cambridge's primary jobs are to perform public duties in support of Queen Elizabeth II, according to the official royal website. They are also both involved in a number of charities, namely The Royal Foundation, of which they are both patrons, along with Prince Harry and Meghan. The Royal Foundation is the "primary philanthropic and charitable vehicle" for the royal foursome, according to its website. William and Harry founded The Royal Foundation in 2009, and both Kate and Meghan both officially joined after their weddings.
Kate clearly loves being a mom to Prince George, Princess Charlotte, and Prince Louis, but she's also passionate about philanthropy, so it will be exciting to see her back in action.