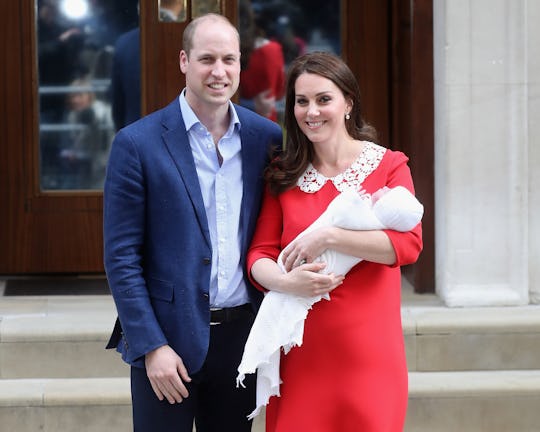 Chris Jackson/Getty Images Entertainment/Getty Images
Here's How Kate Middleton's Maternity Leave With Prince Louis Could Be Different
The tiniest member of the royal family is almost 1 month old, but it still seems like just yesterday that Prince Louis was born. Of course, it might seem like it hasn't been that long because of all the excitement over the royal wedding. Well, now that that's come and gone, people might be wondering when they're going to see the Duchess of Cambridge out and about fulfilling her royal duties again. It could be a couple months since Kate Middleton's maternity leave with Prince Louis, compared to her time off with Prince George and Princess Charlotte, is reportedly going to be a bit longer.
Yes, according to OK! Magazine, Middleton's maternity leave the third time around is expected be longer than her last two leaves. Middleton began her maternity leave for Prince Louis on March 22, just about a month before she gave birth to the little prince on April 23. Reports suggest that Middleton's maternity leave with her third child will likely last until fall of 2018, as Town & Country reported, so that the mom of three can spend time with all of her children, not just her youngest.
It's unclear when exactly Middleton will end her maternity leave this time around, but it is clear that she's dedicated to prioritizing her children. According to Independent.ie, she reportedly felt she went back to work much too quickly with Prince George and Princess Charlotte.
Back in 2013, when Middleton was pregnant with her and Prince William's first child, the mom-to-be was clearly dedicated to continuing her royal duties for as long as possible. According to the official royal family website, Middleton gave birth to Prince George on July 22, 2013. And according to HuffPost, Middleton's maternity leave began on June 13, 2013.
So, before Middleton gave birth to her first child, she had a little over a month to prepare. However, after she gave birth, she didn't take too long off. According to a source who spoke to HuffPost, Middleton "takes her royal role very seriously and is looking forward to taking up her duties when her maternity leave has finished," which explains why she returned to work on Aug. 20, 2013, five weeks after giving birth, according to OK! magazine.
With Princess Charlotte, the Duchess of Cambridge took a bit more time off, but still worked up until she was eight months pregnant, beginning her maternity leave on March 27, 2015, according to Hello! Magazine. But after she gave birth to Princess Charlotte on May 2, 2015, Middleton took her fair share of time in returning to work, not doing so until the fall, on Sept. 17, 2015, per OK! Magazine.
At just over four months, Middleton's maternity leave after giving birth to Princess Charlotte was certainly her longest to date. However, now it seems as though the 36-year-old may opt to take longer with her children. According to The Independent, "Kate is said to be extending her leave an additional few months to spend as much time as possible with her new family before returning to her royal duties, after feeling that she returned too quickly to public life," after giving birth to her first two children.
In case you somehow missed it, Middleton was at the royal wedding of Prince Harry and Meghan Markle, but that was more of a family occasion rather than a royal duty and it's likely that she'll appear at other family functions in the future.
Obviously, Middleton is entitled to take off as much time as she needs to bond with her newborn as well as with her two older children. And as she's shown in the past, she'll return to her royal duties when the time is right for their family.