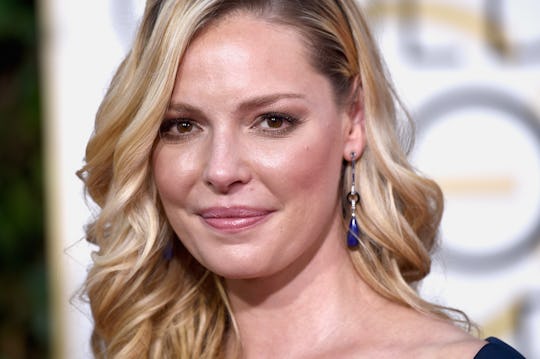 Frazer Harrison/Getty Images Entertainment/Getty Images
Katharine Heigl's Family Photo Is Just Too Cute
Brimming with nearly unchecked adorableness, Katherine Heigl's latest Instagram family photo is a strong contender to be featured on the actress's Christmas card this year. At least, that's what the former Grey's Anatomy shared along with the unplanned snap of herself, her husband Josh Kelley, and the pair's three young kids when she posted it Saturday. But 2017 is still young, and judging by the family's cuteness and the obvious ease among them, the Kelley-Heigl clan will be posing for many other Insta-worthy pics that friends and family alike would certainly love to see in their mailboxes once the holidays roll around.
The most recent one, though, is especially poignant because it features Heigl and Kelley's newborn son, Joshua Bishop Kelley Jr., as well as the little one's two older sisters, Naleigh and Adalaide. "Everything about this impromptu family pic makes me laugh and laugh and laugh!!!" Heigl captioned the photo, in which the whole fam appears relaxing and cheesin' hard. "We may have a 2017 Family Christmas card winner here people!"
And the photo presents a true Stars: they're just like us! moment, because what family hasn't snuggled up all together in bed on a weekend morning, just enjoying one another and snapping selfies?
In the photo, the 38-year-old Heigl appears unbothered after the recent cancellation of her most recent project, the CBS series Doubt. The network yanked the legal drama from the air after only two episodes in response to weak reviews and low ratings, but the setback hasn't stopped Heigl from loving on her family.
And there's a lot to love. She and singer-songwriter Kelley, adopted 8-year-old Naleigh from South Korea in 2009 and then added Adalaide, 4, to their growing brood in 2012. A documented proponent of adoption, Heigl was also thrilled to give birth to little Joshua in late December. "He's fantastic, he's delicious," she told Extra in a recent interview. "It's really fun."
Her daughters, she added, are equally enthusiastic about the arrival of the new baby — if not a little bit more so. "They are such little mommies … They really want to get involved," Heigl told Extra. "They want to stand over me while I change his diaper and point out what I'm doing wrong, they want to feed him, burp him, they want to give him his pacifier and cover him and rock him."
And, honestly, what could be sweeter than that? The real challenge will be deciding which photo to include on the Christmas card this year — because this precious family provides endless options with their photogenic charm.