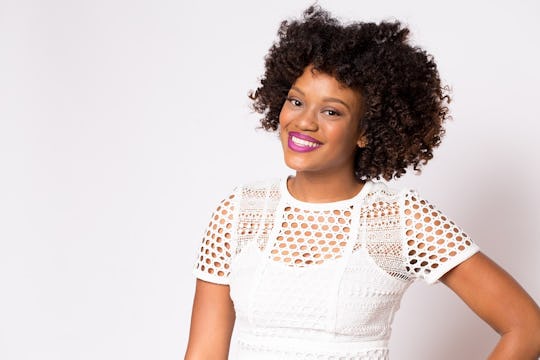 Courtesy Of Queensview Creative Studios
This Mom's Skincare Line Will Make You *Want* To Wash Your Face Every Night
Raise your hand if you've ever splashed water on your face and called it a skincare routine. Yeah, Keli Smith, founder of the all-natural, vegan beauty brand Kaike, knows all about that. After all, as a working mom of four, she's no stranger to the lack of time that can come with juggling a career and busy home life. It's easy to back-burner time for personal care, Smith says, but that doesn't mean she will stop advocating for women to prioritize it.
"Whether your skincare routine falls in the morning or evening, that is usually the time our family needs our attention the most," Smith tells Romper. "From getting everyone up and out in the morning to getting them all in the bed at a decent hour at night, our self care is something that we easily rush through or forget altogether. I know I'm not the only one that falls asleep in my makeup every once in a while."
That's because, like many moms, Smith has been walking the careful line between balancing life with her two children, who range in age from 1 to 12 years old, and building Kaike, her self-created brand that prides itself on combining natural beauty care with a sprinkle (or two) of joy. It's what, yes, causes her to sometimes nod off in her mascara, but it's also what earned her one of Romper's first ever Made It Awards.
Recognize what you have the bandwidth for, and adjust or delegate. Maybe that means the dishes stay in the sink overnight. Don't feel guilty about any of it.
Smith launched Kaike (pronounced 'cake') in 2015 after noticing how much of the skincare marketplace was being represented by products that were labeled natural but chemical-laden, "while others were plant-based and effective, yet booooring," she says. "I wanted to create something that brought excitement to natural beauty and skincare. Fun was missing from the natural beauty aisles."
And with products like lip frosting and marshmallow masks, it's hard to deny that what she's brought to the table is not only charming, but sounds pretty tasty, too. All of the products are natural with many certified organic ingredients, plant-based, and sold in recyclable and reusable packaging. They are also free of artificial ingredients, preservatives, fillers, parabens, phthalates, sodium laurel sulfate, alcohols, and animal testing or ingredients.
"I chose the name Kaike because cake is synonymous with fun," Smith says. "There is usually a cake at the center of every party, and really, who doesn't love cake? I wanted the name to remind women to have fun celebrating their natural beauty." Smith says the spelling is a nod to her family because each of their names begins with a "K" and "because I am building this for them — I wanted them to be reflected in the name."
Handcrafted in small batches in the northern suburbs of Chicago, Kaike's first and best-selling product was Frosting, a multi-purpose product for use on hair, skin, and lips that smells and feels just like, well, frosting.
"[We] focus on infusing fun into your skincare routine," Smith says. "We want to make taking care of your skin an exciting part of your day, so you're more likely to adhere to healthy self-care and accept your natural beauty."
Smith says one of the keys to motherhood and running her business is knowing when to ask for help and be willing to accept it when it's offered. "I've also had to learn how to prioritize what's really important," she says. "Most of the time, that's a game with the kids instead of folding the laundry."
And that falls right in line with her advice to any soon-to-be mom who is about to take on parenthood and work life or veteran moms who are hopping back on the career track: "Know your limits," she says.
"It's easy to become overwhelmed while juggling motherhood, marriage, and work," Smith says. "Recognize what you have the bandwidth for, and adjust or delegate. Maybe that means hiring an assistant or maid, or ordering out a few nights a week. Maybe it means the dishes stay in the sink overnight. Regardless, don't feel guilty about any of it."
After all, she says, "We're all just winging it."
Preach.
To get to know Smith better, check out her Romper Screenshot below:
Check out Romper's new video series, Romper's Doula Diaries:
Check out the entire Romper's Doula Diaries series and other videos on Facebook and the Bustle app across Apple TV, Roku, and Amazon Fire TV.