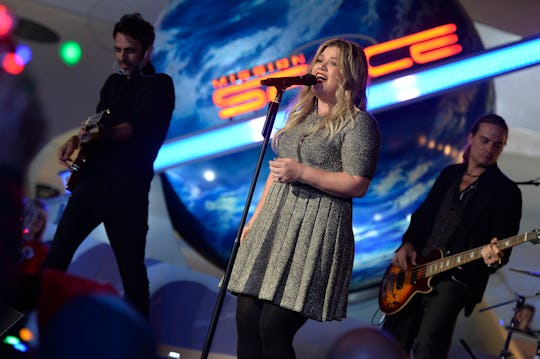 Handout/Getty Images Entertainment/Getty Images
Kelly Clarkson's Daughter Eating Nutella Is All Of Us
This 2-year-old has already visited the White House and inspired a children's book, but what are those life experiences compared to the life-changing sensory experience that it trying the world's most delightful treat for the first time? That's just one of the (many) things that makes Kelly Clarkson's Instagram of her daughter, River, trying Nutella so adorable. The video also features the toddler sporting checks covered in the chocolate hazelnut spread and doing an sweet little shimmy — so, yeah, those are all the ingredients to a Saturday well-spent.
"River's first Nutella experience," Clarkson captioned the brief clip, in which she asks her daughter whether she likes Nutella and gets a definitive "yeah" in response. "It should have been via crepe but toast was easier."
And, of course, the American Idol alum and Grammy winner followed up with the hashtag "#nutellagoodness," because, well, duh. And in the video, River obviously agrees, as she crams that glorious Nutella toast into her mouth like a pro. Toddlers tend to have impeccable taste like that.
River Rose is Clarkson's first child with husband Brandon Blackstock. The two are also parents to Remington "Remy" Alexander, who is nearly a year old. When they married in 2013, Clarkson also became the stepmother to Blackstock's two kids from a previous marriage, Savannah, 14, and Seth, 10.
Clarkson frequently posts adorable photos of her daughter. Like the time in December when River accompanied the "Since U Been Gone" singer to the White House, where she performed at the Christmas Tree Lighting Ceremony for President Barack Obama and First Lady Michelle Obama. Obviously, though, the highlight of the event for Clarkson was spending some quality time with River.
"So this happened yesterday at the White House with my little girl #RiverRose," Clarkson tweeted along with a picture of the two sharing a moment in front a giant Christmas tree in the president's house. "I can't handle it. It was her idea. She's getting a pony."
Clarkson is so enamored by her daughter, in fact, that she wrote a book called River Rose and the Magical Lullaby for her. Published in 2016 by HarperCollins, the book is full of little stories and pictures about the places she's traveled, according to The Daily Mail.
So, it's official: River's most recent Instagram shimmy may have been Nutella-induced (we've all been there), but she seriously has so much to do a happy dance about. With Nutella, a great life just got a little better.