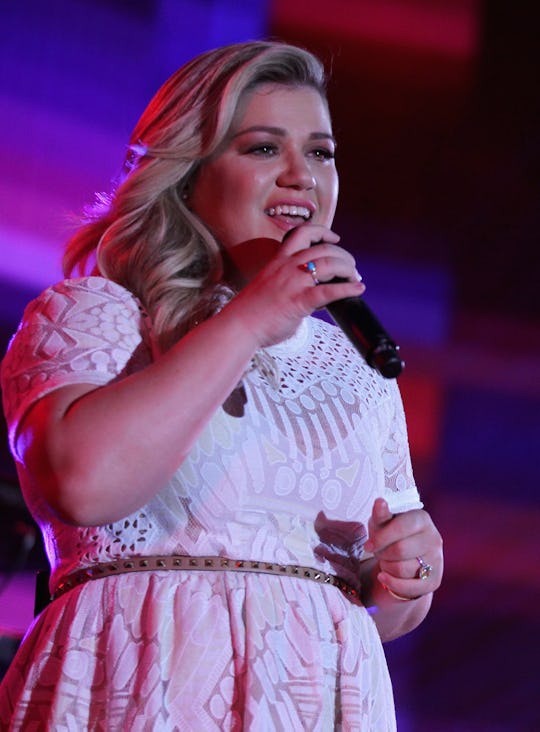 Isaac Brekken/Getty Images Entertainment/Getty Images
Kelly Clarkson's Quotes About Her Kids Are Incredibly Real & Relatable
Kelly Clarkson strikes me as one of those moms I would want to hang out with if ever we happened to be at the park together. There's something open and accessible about her that has fans everywhere rooting, not only for her, but her whole family. As her second pregnancy comes to a close (and we get closer to finding out what she will name the baby boy she is expecting), let's take a look at some spot on Kelly Clarkson quotes about her kids as a reminder that parenting is a learning curve — even when you're a famous singer.
So what is it about Clarkson that has fans really rallying behind her? I think it's her honesty. She has never shied away from being real with fans. She's been open about so many things, whether it was sharing her body image struggles, her complicated relationship with fame, or her long path to finding love with adorable husband Brandon Blackstock, Clarkson has really let fans in to her life. Maybe that's why so many fans feel such a strong connection with Clarkson. She's like that super talented friend who never takes herself too seriously. Serving up real life wisdom with a smile and a large side of eye-roll. It's why people love her, and it's why her quotes about parenting are really relatable.
On Being A Stepmom
While Clarkson is pregnant with her second baby after giving birth to daughter River Rose Blackstock in 2014, she has actually been a stepmom for much longer. Back in 2013 Clarkson spoke to People magazine about marrying husband Brandon Blackstock and how it felt to be a stepmom to his two kids.
"We all live together and everything," she said. "It's so different, but it's perfect. They're awesome, and I actually really dig the mom thing."
The love has clearly continued to grow, as Clarkson brought stepson Seth onstage at a recent Nashville concert to sing "Uptown Funk" with her, putting her in line to be crowned coolest stepmom ever.
On The Possibility That River Rose Could Be Gay
When media outlet Pride Source asked Clarkson how she and her husband might react if her daughter River Rose was gay, she had this to say:
Oh, I don't care. I mean, here's what I hope for her: I just hope she finds love. It took me a while, man. And there was a lot of heartache throughout those years. You know, as long as she's happy, I don't care either way, and neither does my husband. And we have two other kids as well, and we don't care either way for all of them.
On Making Motherhood A Priority
We all know how hard it is to find a decent work-life balance, and Kelly Clarkson is no different in that regard. While she has gotten a massive amount of satisfaction from her work, she told People in 2015:
I love what I do, but I feel like I relied on my career a lot for my self-worth. And now I'm more than that. I'm a mother and a wife and have this whole other thing going on.
On Coming To Terms With Her Own Childhood Through Being A Parent
Clarkson has been very open about how her parents' divorce affected the way she saw parenthood. As she told Ryan Seacrest in a recent radio interview:
Watching my husband love on his daughter all the time, you know, go to her events and just be there and, like, be present is, like, hard to watch but beautiful to watch. I know that my kids are going to have that ... I don't even think I understood the gravity of (my relationship with my father) until I was pregnant. I was like, 'I cannot imagine not seeing this kid to his or her full potential and just seeing what she's going to do, what she's going to be like.' ... I don't think I knew how much that affected me until writing 'Piece By Piece.' I definitely didn't know how it would affect me like it does when I sing it live because that's not fun. It's awesome, but it's kind of sad that so many relate to this song.
One thing is certain — the new addition to the Blackstock-Clarkson clan is going to be a well-loved, lucky little boy.