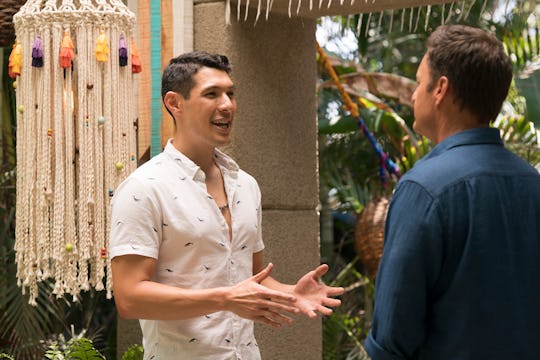 Paul Hebert/ABC
Kendall & Venmo John's Kiss On 'Bachelor In Paradise' Was A Little Surprising
If it wasn't enough that Kendall and Grocery Store Joe were in a love triangle with Leo, Venmo John was thrown into the mix to make it a love square. Thankfully, it doesn't seem like Kendall is going to choose anyone other than Joe when it's all said and done. But when Kendall and Venmo John kissed on Bachelor in Paradise, Twitter had some thoughts.
Where I'm sitting, that kiss was way out of left field. I know there is plenty that viewers don't get to see on BiP, but when Kendall and John talked about their mutual interest in and attraction for each other, it was a big surprise to me. It also seemed like far too much extra drama in a situation that had already been made messy enough by Leo and Kendall's connection while she was also interested in Joe.
For the most part, fans on Twitter were also incredibly surprised by the sudden turn of events. After their kiss, Kendall and John didn't pursue anything more with each other and it seemed to have made her realize once and for all that Joe was the guy for her. But it had the potential to change things in a big way. Luckily, it was just one strange moment on an episode of absolute madness and drama.
After Kendall's kiss with John on BiP Tuesday night, she said that she did feel an attraction and connection with him. Which was, once again, surprising for most viewers. But I think most fans breathed a collective sigh of relief when she said that the kiss also made her realize how real her feelings for Joe are. It didn't stop fans from wondering how the kiss even happened, though.
Overall, I think most fans were just confused as to why the kiss was even a thing. I love John and I love Kendall, but that doesn't mean that they needed to kiss to see if they could have a connection after Kendall already built something with Joe.
This season of BiP has already been a whirlwind of drama and relationship hurdles for some of the more established couples, including Kendall and Joe. After she kissed John and then, after Leo later called Joe "Grocery Store B*tch," Kendall and Joe seemed stronger than ever. So maybe they had to get through all of that in order to really find themselves as a couple. But seeing that kiss come out of literally nowhere was a little confusing for Twitter.
It definitely didn't help that the one guy who had to show an interest in Kendall at this point in the season was another stand up guy comparable to Joe. John is easily one of the more likable and approachable contestants this season, so if things had progressed any further with Kendall, it would have been hard to figure out who to root for in the would-be new love triangle.
But luckily it appears that Bachelor Nation doesn't have to make that Sophie's Choice, and John is still single. And although John is still riding solo, there's still plenty of time for him to find someone else to give his next rose to.