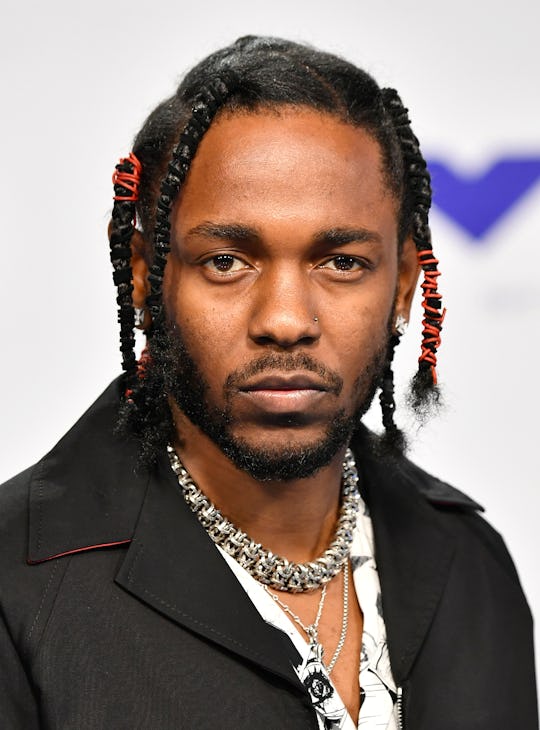 Frazer Harrison/Getty Images Entertainment/Getty Images
Twitter Loved Kendrick Lamar's Powerful Grammys Performance
Every year there are tons of performance at the Grammy Awards that make an impact on viewers, but this year the opening act alone set up the show for the handful of amazing musical acts to come. And Kendrick Lamar's Grammys performance was so powerful that Twitter can't stop talking about it. He wasn't alone, though, as U2 and Dave Chappelle gave him a little help on stage. Bono joined him during "XXX" and later, Chappelle came out to talk in the middle of the performance and said, "I just want to remind the audience that the only thing more frightening than watching a black man be honest in America is being an honest black man in America."
Lamar segued into his song "DNA." His overall performance — complete with a stage full of dancers in soldiers' camouflage uniforms — ended with the pseudo soldiers falling to the floor in red hoodies as the sound of gunshots rang out in the background. Needless to say, it was easily one of the most powerful performances of the night.
Although you don't get awards for performances that happen on the night of, Lamar's performance at the 2018 Grammys was definitely award-worthy and the best way to open up the show.
Before the 2018 Grammy Awards, Lamar already had a total of seven wins under his belt, but can now add five more to that list, including the Grammy for Best Rap Performance, Best Rap Sung Performance, Best Rap Song, Best Rap Album, and Best Music Video. He was also nominated in three other categories, so he more than earned the right to be the opening act of the evening.
As his fans probably already know, this wasn't Lamar's first time performing at the Grammys or even making a statement while doing so. During the 2014 Grammy Awards, Lamar performed a mashup of "Radioactive" and "m.A.A.d. City" with Imagine Dragons on-stage with him. And during the 2016 Grammys, he performed his song "Alright" while a short film about his hometown of Compton, California played behind him.
No one can ever accurse Lamar of forgetting where he comes from and not just because he has a hit song called "Humble." He's another music artist who uses his music to make a statement about society as a whole and his acceptance speech for his 2018 Grammy award for Best Rap Album proved as much. He admitted that while at first he thought the music business to be about making money and gaining fame, he now knows that it's about using his voice for people to really listen to him. "If I can make one person — or 10 million people — feel a certain type of euphoria in my music, that's the whole point," he told Rolling Stone.
Lamar also seems to really appreciate each and every fan he might have out there. "With my listener, I know they actually hear what I'm saying, and I'm speaking for a whole culture of people," he said in the interview. "So for the suburban kid who doesn't know how we grew up, or the history of my people, hearing them lyrics, they get to understand. It's almost like a history lesson that wasn't taught to them in school."
Music is obviously much more important to him than entertaining a crowd. But being entertaining and also saying something important with his music was what he managed to do with his Grammy performance Sunday night.
Twitter is still talking about Lamar's Grammys performance and I doubt they'll be stopping anytime soon, but can anyone really blame them? Something tells me it will be one of those Grammys performances that will be searched for online for many days after the show is over.
Check out Romper's new video series, Romper's Doula Diaries:
Watch full episodes of Romper's Doula Diaries on Facebook Watch.