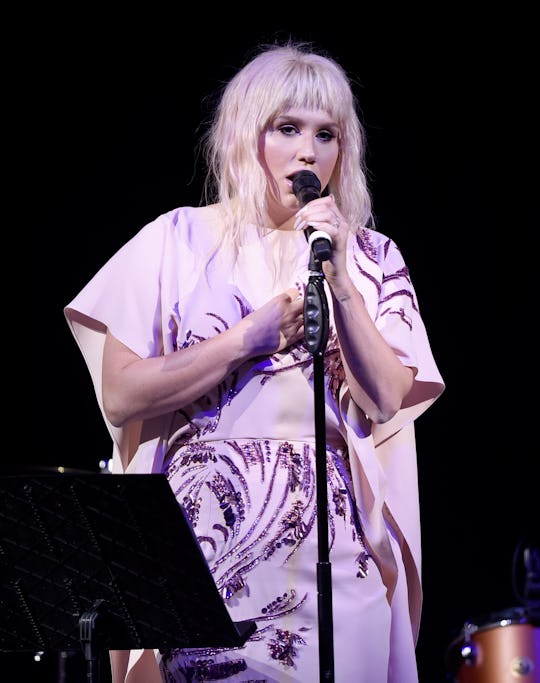 Angela Weiss/Getty Images Entertainment/Getty Images
Kesha's Performance At The Billboard Music Awards Is Back On, & Fans Are Pumped
Time and time again, Kesha steps up. In an industry that often feels defined by acquiescing, by one's ability to conform to a certain sort of mold, Kesha continues to stand her ground. And it continues to earn her kudos from fans (and fellow feminists) everywhere. Remember two days ago when Sony/Kemosabe Records reportedly had her act stricken from the set list? Well, it turns out Kesha's Billboard Music Awards performance is back on and fans couldn't be happier for her.
When it was reported recently that Kesha planned to "make a statement" with her performance at the Billboard Music Awards on Sunday night, it was reportedly canceled by her label, Kemosabe Records, which is owned by Dr. Luke. The label was reportedly concerned that Kesha would use this very public opportunity to shed a spotlight on her recent lawsuit (and allegations of rape) against Dr. Luke, according to the New York Daily News. Dr. Luke has vehemently denied all of Kesha's allegations. Dr. Luke's legal representatives have not returned Romper's request for comment.
When the performance was originally canceled, Kesha responded with an Instagram post saying that her performance had nothing to do with Dr. Luke (because not everything is about him! Ha!).
I was very excited to perform a tribute to Bob Dylan by singing a cover of "It ain't me, babe" at the Billboard awards this year. I'm very sad and sorry to say I won't be allowed to do this. I just wanted to make very clear that this performance was about me honoring one of my favorite songwriters of all time and has never had anything at all to do with Dr. Luke. I was never going to use a picture of him, speak of him or allude to my legal situation in any way. I simply wanted to sing a song I love to honor an artist I have always looked up to. thank u all for the continued support.
Kesha offered further proof that her Billboard Music Awards appearance was going to be about music, not controversy, when she performed her intended song — Bob Dylan's "It Ain't Me Babe" — with Ben Folds at the Orpheum in Los Angeles on Wednesday.
Kemosabe Records has since released a statement about Kesha's performance.
Kesha's performance on the Billboard Music Awards was always approved, in good faith. Approval was only suspended when Kemosabe learned Kesha was to use the performance as a platform to discuss the litigation. Now that Kemosabe has obtained assurances, that it is relying upon, from Kesha, her representatives, and Dick Clark Productions that neither Kesha nor her supporters will use the performance as such a platform, the approval has been restored.
And, naturally, Kesha's "animals" went wild on social media.
So here is what is so beautiful about Kesha's composure in this situation. She has heaps of talent and energy to share, and she is on her way to being so over this whole situation. She continues to set the gold standard for being a true survivor.
Well done, Kesha. Fans are psyched to see her perform at the Billboard Music Awards on Sunday.