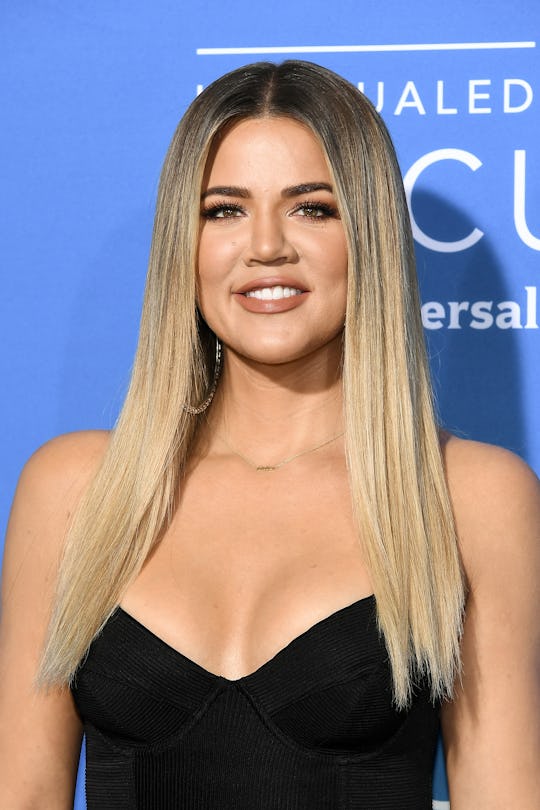 Dia Dipasupil/Getty Images Entertainment/Getty Images
Moms Will Totally Relate To Khloé Kardashian's Posts About Waiting For Her Daughter's Arrival
Let's be honest: even if you were lucky enough to have a beautiful, easy, totally magical pregnancy, the lead up to your due date can still be super dull and frustrating. Your belly is uncomfortably big, you're so over getting up a million times each night to pee, you're probably at least a little bit nervous about what's ahead, and, well, you're ready to just meet your baby already. So when Khloé Kardashian said she was "bored AF" waiting for her daughter's arrival in a Snapchat post over the weekend, according to Us Weekly? It was definitely something a lot of moms could totally relate to.
Kardashian shared a series of Snapchat videos shot from her home in Ohio, where she and her partner, Tristan Thompson, will be soon be welcoming their baby girl. In it, the Keeping Up With The Kardashians star could be seen rocking on an exercise ball — great for pregnancy-induced back pain, and something which can also be helpful during labor itself — and from the sounds of it, the eager soon-to-be-mama was more than ready to welcome her little one into the world. In addition to becoming one with her birthing ball, the super-organized star had also already completed a very-important end-of-pregnancy milestone: on Wednesday, she tweeted she'd been "nesting" while watching The Real Housewives of New York, and on Friday, she she shared a post on her app revealing that her hospital bag was packed and ready to go.
If you're a fan of Khloé, it's probably not exactly a surprise to hear that she's so ready — not only has she been a totally excited mom-to-be the entire time, but she also seems to be the kind of person who would totally excel at third-trimester baby prep. The Revenge Body star, who jokingly refers to her neat-freak tendencies as "Khlo-C-D," has long been known for her meticulously organized home, where virtually everything appears to be kept in its own individual, labelled container, according to Buzzfeed. And in a post on her app at the end of January where Kardashian discussed her excitement over entering her third trimester, according to People, she wrote,
I heard later in your third trimester you go through a stage called 'nesting' where you just want to clean and organize everything ... I am actually looking forward to it. I just want everything organized and planned and as perfect as possible before the baby comes.
Not all moms are as on-the-ball when it comes to hospital prep (I absolutely left that part until the very last second when I was pregnant), but Kardashian? Her hospital go-bag has been ready for a while now. In a recent blog post, she explained,
When it comes time to go to the hospital to deliver my baby girl, I'll be ready. Of course, I'm already packed up and have been for a while, LOL. I knew exactly what I wanted to put in my hospital bag—lots of comfy things for me and for her!
For Kardashian, that meant pjs, a pillow, her "Barefoot Dreams" blanket, maternity bras, her going home outfit, and her gadgets (laptop, camera, etc.). She's also packed plenty of baby essentials, including sleepers, hats, receiving blankets, socks, and swaddles.
As much as Kardashian clearly likes to plan ahead though, she seems to at least be keeping a realistic outlook about all of the things she may not actually be able to anticipate. While she'd long ago decided that her daughter would be born in Cleveland, where Thompson lives as a member of the Cleveland Cavaliers (she's even flying her LA-based doctor in for the birth), she did tell Jimmy Kimmel in January that she was keeping an open mind about other details — including which of her family members would be allowed in the delivery room.
Kardashian made it clear that Thompson, of course, "has to be there," and that she also definitely wants her mom, Kris Jenner, to be at her side. As for anyone else hoping to watch the newest tiny Kardashian make her entrance though? Khloé said she would allow "whoever is going to be the calmest," and "whoever will annoy [her] the least."
Awaiting the arrival of your due date can be seriously nerve-wracking, especially if it's your first child. And what's even worse? Plenty of mamas are left to watch their due dates come and go with no change in their pregnancy status whatsoever. For some women, at least, that extra time is a chance to squeeze the last bit of enjoyment or anticipation out of their pregnancies, but for many women — and, from the sounds of it, Khloé included — the wait can be totally agonizing. So for the sake of her sanity, let's hope her little one arrives soon. The last thing any eager mom-to-be wants, after all, is to end up being over-due.
Check out Romper's new video series, Bearing The Motherload, where disagreeing parents from different sides of an issue sit down with a mediator and talk about how to support (and not judge) each other's parenting perspectives. New episodes air Mondays on Facebook.