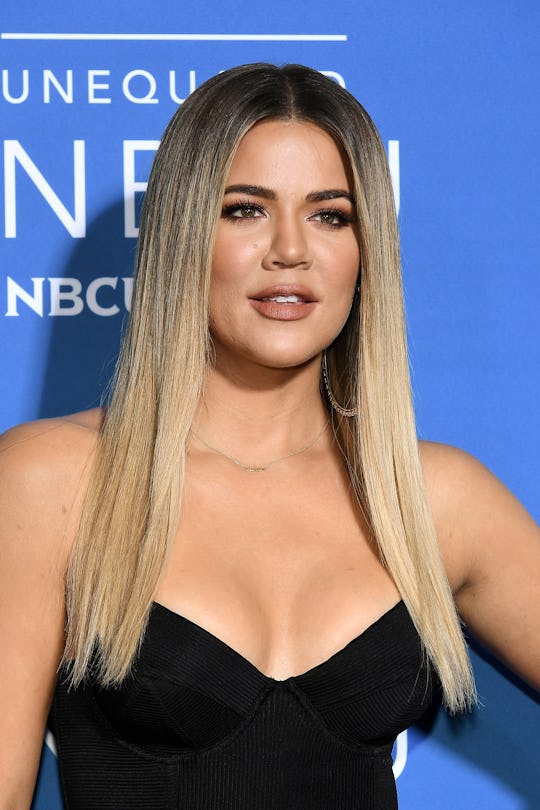 Dia Dipasupil/Getty Images Entertainment/Getty Images
Khloé Kardashian Found The Best Product To Help With Low Milk Supply For True
Now that Khloé Kardashian has become a mom, she seems to be using her trademark "Khlo-CD" to wrap her head around her new normal. Her daughter True, who was born on April 12 in Cleveland, certainly sounds like she's one of those pretty easy babies. But all moms know that sometimes a girl needs a little help when it comes to raising babies. And because this particular Kardashian is all about organization, she's staying ahead of the game in some brilliant ways. Khloé Kardashian says she isn't producing enough breast milk, but don't worry guys. She's already got a solid product to give her a hand when she needs to feed baby True.
Khloé took to her website on Wednesday to discuss what her breastfeeding journey has been like so far with baby True. Since welcoming her daughter in April with boyfriend, Cleveland Cavaliers player Tristan Thompson, she has apparently been struggling to produce enough milk for her little girl. Not being able to produce enough milk to feed your baby can be an incredibly stressful, emotional time for a new mom, no matter how incredibly common a problem it might be. The Revenge Body host happily found a product to help her with this problem, and she's generously sharing the tip with other moms.
As Khloé wrote on her website:
One of the baby products that I absolutely love and adore is the Baby Brezza Formula Pro One-Step Bottle Maker.
Technically, I don't need something like this because I breastfeed, but because I don't produce enough milk, I also have to give a bottle with every feeding. And, with the formula I use, I have to give True the bottle within 30 minutes of making it, so it's amazing to have this machine make it for me. It's super easy to use—and fast, so when I'm exhausted and can't even keep my eyes open in the middle of the night, it's a total lifesaver.
According to the Baby Brezza website, the Formula Pro One Step Bottle Maker is a " a revolutionary way to automatically make warm, formula bottles in seconds. Works with all major brands of formula and sizes of bottles." The water is warmed in a removable water tank to the perfect temperature for you, so you don't have to worry about doing that test-on-the-wrist thing perfected by generations of mothers before you. It works with all brands and sizes of bottles, and it doesn't even look weird on your counter. Plus, it's Kardashian-approved so you know it's probably pretty amazing. It sells for $180 on the Baby Brezza website, and has a 4.2 star rating.
It's great that KoKo found something to help supplement her breast milk for True, because it sounds like she was having a real time of it in the beginning. Momager Kris Jenner spoke with Ellen DeGeneres on Ellen about those early days of motherhood for Khloé, and when DeGeneres asked her about nursing, Jenner said her daughter was finding it a "little tricky:"
Well, she is trying, she's really trying. [Latching] was a little bit tricky when I was there. She's figuring it out one day at a time and she's just the best mum already and that baby is so cute. Little True.
One thing Khloé has going for her other than the Baby Brezza Formula Pro One Step Bottle Maker is a family of sisters who have been there themselves. And fans of Keeping Up With The Kardashians know that sisters Kim and Kourtney will not be shy about sharing their experience. So she's got back up of an emotional kind if she needs it too... not that she seems to need it too desperately. This particular Kardashian is all about organization and research, so you know she'll have the whole mommy thing figured out in a New York minute.