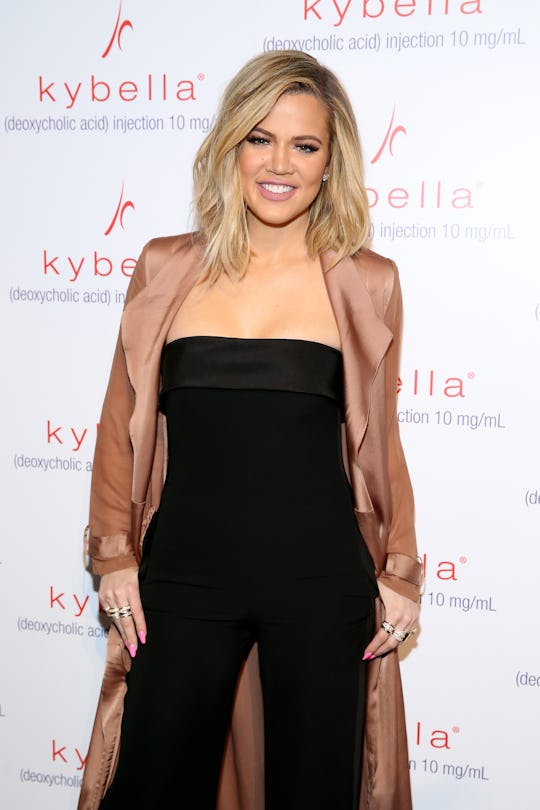 Cindy Ord/Getty Images Entertainment/Getty Images
Khloé Kardashian Can't Believe She Misses Her "Pregnant Tummy"
Khloé Kardashian has only been a mom for less than four months, but she already misses pregnancy. Well, kind of... On Wednesday, the reality TV star Instagrammed a behind-the-scenes video from a Calvin Klein photo shoot in which she was nearly nine months pregnant. In the caption of the video, Kardashian wrote that she misses her bump — and that's a totally normal feeling for new moms.
The behind-the-scenes video may transport you to the simpler days of grainy home movies shot on camcorders. The vintage-looking video is timestamped March 13, 2018, which was almost exactly one month before Kardashian gave birth to True on April 12.
In various Calvin Klein loungewear and underwear, Kardashian is seen modeling on a swing, being pushed back and forth by someone who appears to be Kylie Jenner, who gave birth in early February. Kris Jenner, Kourtney Kardashian, Kim Kardashian, and Kendall Jenner also make brief appearances on set in the short video, and the camera shows various shots of Kardashian's bump from all angles.
"Being in a @calvinklein campaign has always been a dream but shooting one with my sisters and being almost nine months pregnant is so special to me!" Kardashian wrote alongside the video on Instagram. "I have this magical moment in time documented forever. Thank you Hrush for capturing these moments!!! I miss my tummy now 😩."
And alongside a few photos from the shoot that she posted a few hours later, Kardashian reiterated that she missed her bump, even though she couldn't quite believe it was true. "Such a beautiful shoot with my beautiful family!!" she wrote. "These pics make me miss my pregnant tummy! Can't believe I'm saying that."
Missing aspects of being pregnant is completely normal. One mom, for example, wrote for Romper that she missed being able to keep her babies inside of her where she knew they were safe. Another mom wrote that she felt like a superhero whose body was a "powerful machine that could prepare, birth, and feed another human being."
Kardashian undoubtedly had a ton of support during her pregnancy — from her family, her close friends, and her boyfriend Tristan Thompson (well, not so much during the last week of her pregnancy, but you know...), so it makes sense that she would look back at that time fondly.
The Hrush who Kardashian mentioned in her caption is makeup artist Hrush Achemyan. Achemyan shared several photos from the shoot on her Instagram, where she also shared a pretty cool fun fact. "Let's talk about my muse @khloekardashian setting new standards and being the first ever woman that's been pregnant do a @calvinklein campaign! INSANITY!!!" She also mentioned that hairstylist Justine Marjan did Kardashian's hair for the shoot, and Marjan shared an awesome fun fact on her Instagram as well. "Khloe's last photo shoot before baby True!! 👶🏽," Marjan captioned a picture of Kardashian from the campaign.
The theme of the Calvin Klein photo shoot, which also featured Kardashian's four sisters, seems to be family. "Our family makes us who we are," reads a caption on a photo of the sisters that Calvin Klein shared on Instagram. "Daughters. Sisters. Mothers. Friends," the account captioned a video from the photo shoot. "Family escape: stripping down to the essentials and reconnecting with what matters most—family," reads the caption on another picture of the five sisters.
Family is certainly an appropriate theme for the gals, considering three of them welcomed daughters this year. Who knows, maybe in 20 years, Chicago, Stormi, and True will all be posing in a Calvin Klein ad together. You never know, right?