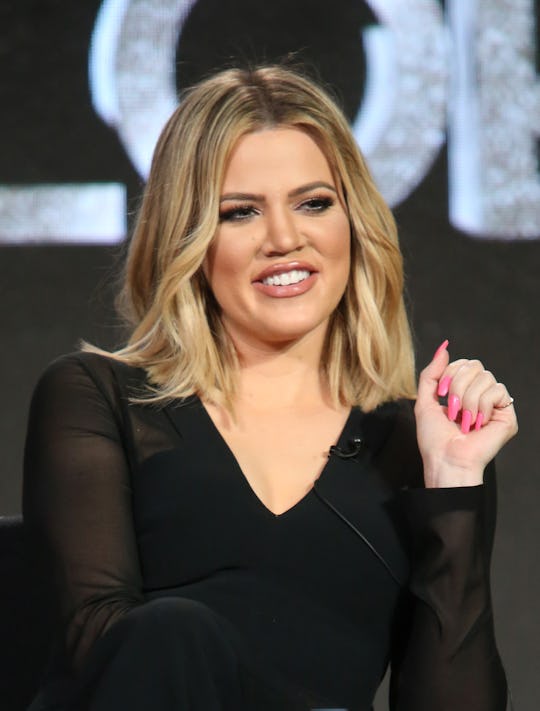 Frederick M. Brown/Getty Images Entertainment/Getty Images
Khloé Kardashian Shared The Heartwarming "Parenting Technique" She Learned From Her Late Dad
As Khloé Kardashian settles into parenting her brand new baby girl, True Thompson, she appears to be getting super nostalgic about her family. Which makes a lot of sense to any mom out there, of course; giving birth is one of the deepest and most profoundly moving moments in a person's life. Everything changes, even the way you see your own family. And it can also make any loss you might have experienced more significant. Especially if the person you lost was a beloved parent. On Thursday, Khloé Kardashian shared the "parenting technique" her dad taught her, proving she's thinking about him, maybe now more than ever.
Khloé gave birth to her daughter last Thursday, on April 12. She reportedly had loads of family support in the room with her, including her mom Kris Jenner and two of her sisters, Kourtney and Kim Kardashian, according to Us Weekly. Her boyfriend, Cleveland Cavaliers player Tristan Thompson, was also reportedly on hand to witness the birth of their daughter together, according to Us Weekly.
Unfortunately, there was one person who couldn't be with her when she was having her baby: her father, famed lawyer Robert Kardashian Sr., who died in 2003 after a short battle with esophageal cancer. But that doesn't mean his presence wasn't felt.
The Good American designer took to her website a week after welcoming her baby girl to share one of her father's "parenting techniques" that she plans on using to raise her daughter. And honestly? Take a moment to grab some tissues, because this one's a doozy. After writing that it would be "impossible" for her to try to pick "just one parenting technique" from her mom because Kris Jenner had taught her so much about life, Khloé opened up about her dad. She wrote:
But, the one thing I would take from how my dad was with us is unconditional love. It's the entire point of family.
Welcoming a baby is meant to be a joyful time, but it can also bring up some pretty complicated feelings if you've lost a parent. Because your parent won't be there to share those important milestones with this little person who is suddenly the most important thing in your life.
Rather fortunately for the Revenge Body host, she seems to have a whole lot of happy memories of her dad to pass on to his newest granddaughter. And an upbringing filled with unconditional love to pass on as Robert Kardashian Sr.'s legacy.
The Kardashian/Jenner family might not be everyone's idea of a perfect family (to be fair, who is?), but they do always seem to have each other's backs. So Khloé might not have her father in Cleveland with her right now as she gets accustomed to being a parent, but she has sisters and a mom and probably a brother to help guide her as a mother. And she even has a little experience in the mom department herself, as she wrote on her website. Apparently, Khloé considers her youngest sisters, Kendall and Kylie Jenner, her "first babies," and is so grateful for the experience she had helping to raise them, as she noted in her blog post:
They're really like my first daughters. I helped raise them, which I love and appreciate so much now that we're older. I think they definitely prepared me for some of the challenges of motherhood!
Whatever decisions Khloé might make in the coming months about where she will raise her daughter or her relationship status, I feel pretty confident that her family will have her back. Because they know a little something about unconditional love, thanks to the late Robert Kardashian Sr.
Check out Romper's new video series, Bearing The Motherload, where disagreeing parents from different sides of an issue sit down with a mediator and talk about how to support (and not judge) each other's parenting perspectives. New episodes air Mondays on Facebook.