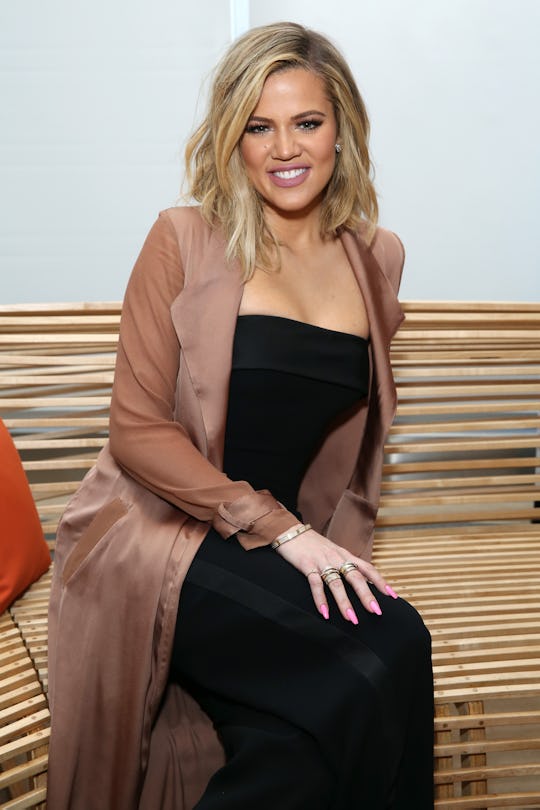 Cindy Ord/Getty Images Entertainment/Getty Images
Khloe Kardashian's Pregnancy Reveal Tweet Is Even Cuter Than Her Insta
OK, so there are pregnancy announcements and there are Kardashian pregnancy announcements — and this time around it's Khloe Kardashian's. That's right: The star confirmed her pregnancy with Tristan Thompson today, making fans simultaneously squeal and sigh with relief about the reveal. Kardashian posted a photo on Instagram with Thompson's and her hands wrapped around her rounded belly and wrote, "My greatest dream has been realized!" She praised her man which was oh-so-sweet, but it was Khloe Kardshian's pregnancy reveal tweet that had her fans feeling extra special.
"I was so nervous to post our announcement but WOWWW I am overwhelmed with the response by you guys!!!" Kardashian tweeted soon after the Instagram reveal. "Thank you! Thank you! <3 <3 <3 <3 I love you guys!!" Not long after, she followed it up with another tweet full of red heart emojis, her gratitude for the support spilling out of her Twitter feed. She's always been "close" with her fans, but this extra tweet was even cuter than her Insta. It proved that Kardashian notices how much her fans love her and proved how much she truly appreciates them. It makes it even easier to be happy for her when she just seems so darn proud that you are.
It's no surprise that Khloe dedicated her Twitter post to her fans. The youngest of the Kardashian trio is known for reaching out to fans during both exciting and difficult times. "Thank you dolls SO much for your patience while I needed some time off," Khloe wrote on her website when she was helping ex-husband Lamar Odom through recovery. "I'm excited to be back in the mix bringing you some awesome content. Your love and support has meant the world to me. XOXO, Khloe." Kardashian also took to Twitter on Sept. 18, 2013 after news broke about Odom's drug addiction, tweeting: "Always remember how much I love you! I'm forever grateful for your love and support!!!! Kisses my babies."
And her fans' reactions to her news prove not only that they were on the edge of their seats waiting for Kardashian to confirm the pregnancy, but that they are truly excited for the mama-to-be. Many of them even alluded to the news Kardashian received during an episode of Keeping Up With the Kardashians where a fertility doctor delivered news that indicated the 33-year-old may not be able to have children.
It wasn't the first time Khloe Kardashian's fertility was a topic of discussion. In fact, the star has often been the source of the conversation, even stating in a June 2013 interview with Redbook that she had been taking hormones to better balance her body.
"People assume I'm desperate for a baby," Kardashian, who was married to Odom at the time, told the magazine. "And yes, I would love to have a baby. But I'm 28, and I've been married three and a half years. I love my life, but it doesn't feel incomplete right now."
But just as Kim and Kourtney Kardashian showed their little sister love today, Khloe Kardashian maintained jealousy about her sisters' pregnancies was never a factor.
"I couldn't be happier," she told the magazine. "I actually got mad at Kourtney because she was afraid to tell me at first. So I get why people think I'm hurt, because my own sister thought I would be."
Fans and media alike have been speculating about Khloe Kardashian's pregnancy since September, pointing to a comment on an Instagram photo promoting her Good American clothing line where she replied "hey daddy" to Thompson and even looking for a hidden bump in the annual Kardashian family holiday photo as recent as yesterday.
Of course, while Khloe may have confirmed the rumors with today's news, there is still one member of the Kardashian-Jenner clan who hasn't yet done so — Kylie Jenner. Like Kardashian, speculation that Jenner is pregnant with her first child with boyfriend Travis Scott has been circulating since September, but the star has yet to confirm.
Many fans began speculating yesterday that Jenner is saving her reveal for that darn holiday card, but there hasn't been any sign of that yet. But according to People, Kylie is reportedly due in February. If that's the case, then Kylie is running out of time to spread the word before her due date arrives.
Then again, it just wouldn't say Kardashian-Jenner without keeping everyone on their toes, am I right?
Check out Romper's new video series, Romper's Doula Diaries:
Watch full episodes of Romper's Doula Diaries on Facebook Watch.