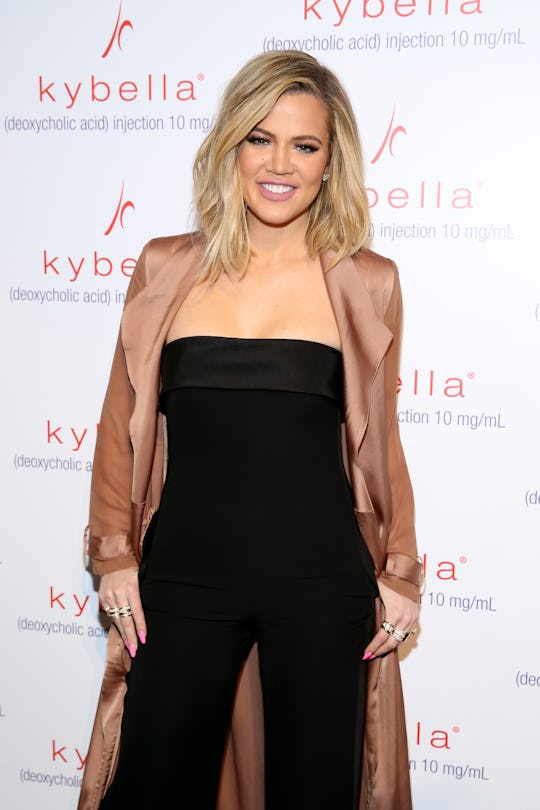 Cindy Ord/Getty Images Entertainment/Getty Images
5 Times Khloé Kardashian Opened Up About New Motherhood
Khloé Kardashian was so, so ready to be a mom. The 33-year-old might not be sharing every little detail of her baby daughter's life on social media, but the things she has shared point to a woman who is totally focused on her tiny human. In fact, many of Khloé Kardashian's realest moments as a new mom are pretty dang relatable. Because they're not based on fame or wealth or celebrity; they're all about the true human experience of becoming a mother.
The Good American jean designer welcomed her daughter, True Thompson, on April 12 with her boyfriend, Cleveland Cavaliers player Tristan Thompson. Since that time, Khloé has reportedly been nesting with her little girl and trying to get their routine down pat. Fans of Keeping Up With The Kardashians know that Khloé is a big fan of staying very organized and having a routine, and moms everywhere know that babies don't always immediately cooperate with our schedules.
And I don't know if you've noticed, guys, but there's this thing we do as new moms where we think we've got something figured out in the early days, so we just assume it will all be smooth sailing from that moment forward. And Khloé is no different.
When She Shared Her Tips For A ~*Dreamy*~ Nap Time
The new mom took to her website last week to say that True was already on a schedule "and has been so awesome about it." She went on to explain how she managed to figure out a perfect nap time for her baby:
Every time True takes a nap, I play a sound machine. It's like white noise, so it blocks out any disruptive sounds around the house, like a vacuum or lawn mower. Also, when she hears the noise, it already kind of puts her in the state that she's going to sleep, so she's relaxed.
I thought I had nap times figured out too. I won't tell you what happened eventually... just know I was quite wrong. That's OK, though. When things are less than perfect, she also gets a lot of joy out of the little things.
When She Opened Up About This Unexpected Joy Of Motherhood
In a Snapchat video Khloé shared in May, she admitted that she gets a whole lot of joy from one surprising place when it comes to True. According to People, Khloé said:
One thing about motherhood that I didn't know is that every time baby True goes potty, it is like a party in here. And I cheer, and it's like a poop party. I go, "Oh my Gosh, Mama, I'm so proud of you! You went potty!"
This sounds pretty familiar to most moms, I imagine, when your baby first arrives and has no way to tell you how they're feeling, so you have to rely on diaper chronicles. As People reported, Khloé noted in the same video:
The joys of motherhood. And it's the little things that make us happy. Because I know her tummy's feeling good and her digestive system is working. I didn't know these things would excite me. My, how things have changed.
When She Got Real About Breastfeeding
So here's one unfortunate by-product of being a mom: getting judged by mom-shamers. When Khloé opened up about suffering from low milk supply and talked about supplementing with formula for True on her app, it seems she had her share of critics on social media.
But she is still Khloé, after all, and hit back on Twitter to make sure she wasn't going to put up with this nonsense. Which I'm sure other moms must appreciate. She wrote in the below tweet:
Mommy shaming is real! But the truth is I've tried and tried and tried to breast feed only and it wasn't working for me. I feel fortunate that I am able to still breast-feed but with the help of formula. Breast-feeding is something I really wanted to do. Just am not fully able
When She Celebrated All The Little Milestones
True had quite the sneeze recently in a Snapchat video Khloé shared while wearing a pink tutu. She also had a bath, and she turned 2 months old on Tuesday, June 12. Her mom can't wait to hear her first giggle. How do I know all of these things? Like a real new mom, Khloé is documenting these moments like she's writing a book about them. Which she very well might be, for all I know.
When She Got Nostalgic For Her Pre-Baby Body
The Revenge Body host has taken some flak for getting back into an exercise regimen so soon after giving birth, but she's not having it. She worked hard on her fitness for years, and understandably she's not willing to give it up, as she has noted frequently on her website with diet and exercise posts. And you know what? If that's the way she rolls, let her roll that way. I know plenty of moms who managed to take care of their kids and also focus on exercise, because that made them feel happy.
That's the thing, being a mom these days can mean many, many things, but there's still so much that brings parents together to relate on these sweet and challenging moments. While she may be a celebrity with a hefty net worth to her name, it seems that Khloé's life as a mom within the first two months of baby True's life is still filled with so many oh-so-relatable moments.