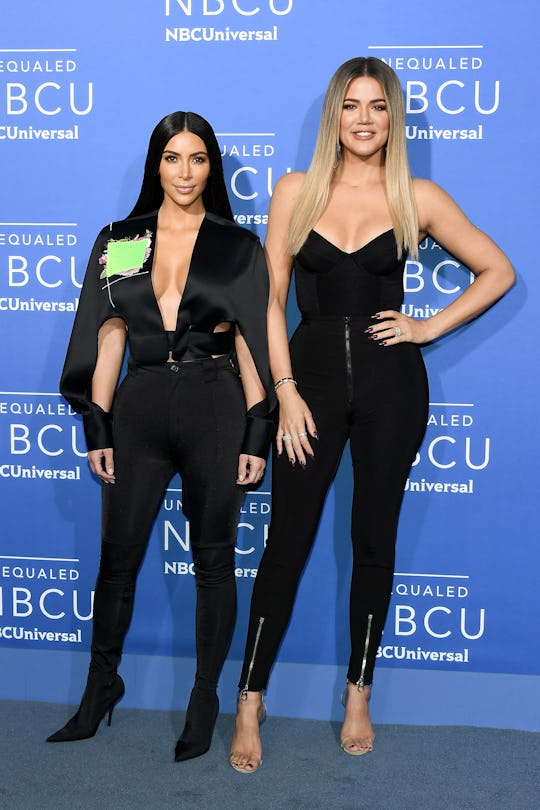 Dia Dipasupil/Getty Images Entertainment/Getty Images
Khloé Kardashian's Response To Kim's Daughter's Name Is So, So Sweet
Hold the phone! On Friday, Keeping Up With The Kardashians fans finally learned the name of Kim Kardashian and Kayne West's third child. So far, many of the reactions have been positive, especially from their family members. Take, for example, Khloé Kardashian's response to Kim's daughter's name, which is so, so sweet.
Kim Kardashian took to social media Friday afternoon to reveal her newborn daughter's name, Chicago West, according to The Daily Mail. Of course, most people were excited to learn what Kimye decided to call their new little one, but younger sister Khloé had the best response of all.
The 33-year-old Good American co-founder retweeted sister Kim's post, tacking on a simple, sweet message that's complete with multiple Os and four heart-eye emoji. Khloé wrote on Twitter Friday afternoon,
I LOOOOOOOOOOVE her name. hey Chi (shy).
How cute is Khloé Kardashian's reaction?!
In her original tweet, Kim also included a link to her website, where she posted the new baby's name, along with her birthday, birth time, and birth weight. The 37-year-old KKW Beauty mogul and husband Kayne West welcomed their third child — and second daughter — via a gestational carrier on Sunday, Jan. 15 at 12:47 a.m. Pacific Time.
It's no surprise that Khloé, who's expecting her first child with boyfriend Tristan Thompson, would be so loving and supporting in her response to the baby name news. After all, when Kim announced on her app Monday that Chicago was born over the weekend, Khloé reacted on Twitter with six double-heart emoji, according to Elle.
In a lot of ways, Chicago West could be considered a special name. Although born in Atlanta, Kayne West grew up in Chicago, Illinois. It's the city where he went to — and dropped out of — college to pursue a career in music. And it's the city where he cut his teeth as a rapper, ultimately shaping the trajectory of his career. Personally, I think calling their daughter "Chicago" is a much more meaningful way to show respect to Kayne instead of going down the tired and traditional "Junior" route (no offense, Khloé — or to my younger sister, if you're reading this).
But there's a deeper significance to the name Chicago than Kayne's geographical lineage. Their daughter's moniker is another way of honoring Kayne's late mother, Donda West, who passed away on Nov. 10, 2007 at the age of 58. Ten years ago this month, the 40-year-old rapper learned his mother's cause of death: Heart disease following liposuction and breast-reduction surgery, according to People.
The Kardashian-West family has yet to explain why they chose the name Chicago, but it wouldn't be at all surprising if the choice had to do with Donda. In a video obtained by The Daily Mail, Kayne West could be heard answering questions from paparazzi about potential baby names. When one of them suggested "Donda," he responded with, "Oh, that's fire."
Most people are living for the name, especially the show runners behind the Chicago television franchise (their social media people got jokes). But not all KUWTK fans are on board with Chicago. Some replied to Kim's original tweet with disapproval or disbelief, while others jokingly expressed pity for their daughter. One fan commented, "Oh dear god!! Give me strength! Poor kids!!," followed by another Twitter user who wrote, "Why, poor kid."
It's not surprising that there are detractors, of course. When Kim Kardashian and Kayne West revealed 2-year-old Saint's name, people couldn't stop making fun of it online. But making fun of a newborn's name is just ridiculous — and offensive. Try living your life being told your name is "stupid" or having your name mocked because a person can't bother to learn how to pronounce it. It's exhausting and hurtful.
But I digress. Either way, welcome to the world, Chicago.
Check out Romper's new video series, Romper's Doula Diaries:
Watch full episodes of Romper's Doula Diaries on Facebook Watch.