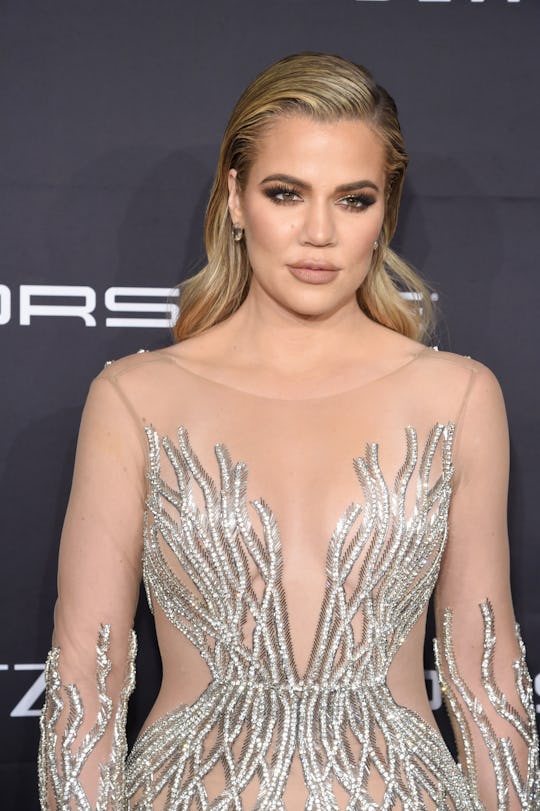 Jamie McCarthy/Getty Images Entertainment/Getty Images
Khloé Kardashian's Rumored Baby Shower Plans Are Surprisingly Low-Key
The Kardashian family's lack of comment on circulating pregnancy rumors has done little to stop the flow of information coming from unnamed sources. Numerous details have come out about the family's reported plans and preparations for the coming additions. Most recently, fans learned of Khloé Kardashian's rumored baby shower plans, as well as how she intends to spend the holiday. Although far from official confirmation from Kardashian herself, any shared tidbit is likely enough to get fans speculating.
People first reported that Kardashian is expecting in late September, adding to the fury of baby fever caused by news just days earlier that Kylie Jenner was also pregnant. Most recently, a source close to the family told People that Kardashian, who is reportedly due in early 2018, is already making plans for the baby's birth. "Khloé wants to give birth in L.A. That's the plan right now. For Christmas, Khloé wants to be with her family," the source said. Sister, Kim K's, babies were also born in L.A. for the sake of family closeness, and it looks like Khloé may be keeping with the tradition (that is, if she's actually pregnant). Khloé's representative has not responded to Romper's request for comment regarding the rumored pregnancy.
Kardashian's boyfriend and rumored soon-to-be father of her baby, Tristan Thompson, will be away for Christmas. So it looks like Kardashian has a choice to make, according to the source:
Tristan has a game on Christmas Day, so they are still deciding if they will celebrate together, or apart. Either way, they are spending New Year's together.
Regardless of where she spends the holiday, the family will all be together soon for her baby shower, if the source is to be believed. "Khloé seems very happy," the source said. "She doesn't really talk about the baby. She hasn't had a baby shower yet, but has one scheduled," adding that she wants her own shower to be "low-key like Kylie's," which is pretty surprising given the Kardashian's flare for glamour. And, fans will be in even more of a baby-rumor frenzy if Khloé doesn't have an extravagant shower, especially if she teases what appears to be a baby shower photo on social media (which she would totally do).
Jenner's shower was reportedly held in secret the same weekend as sister Kim K's elaborate cherry blossom-themed shower. Jenner is expecting a baby girl with boyfriend Travis Scott, according to People, and she celebrated with a last minute shower at her Hidden Hills home, surrounded by friends and family who received their invitations just days before.
Kardashian has been sending fans mixed signals about the veracity of the pregnancy claims, repeatedly calling Thompson "Daddy," on social media but then responding directly to some comments suggesting that her body looks pregnant. One recent string of tweets that caught Koko's eye was about a shirt that she was wearing. The authors of the tweets claimed that she was "showing" and Kardashian snapped back:
This is a peplum shirt. It flares out at the bottom. It's just the way the shirt is designed. In some of the next pictures coming up from the SAME shoot, I'm in a crop top. Showing a lot of skin...
While Kardashian has yet to comment on her rumored pregnancy, she has made it very clear that she has nothing but love for Thompson and their relationship. The two have been dating since September 2016 and Kardashian has been open about her love and appreciation for him the entire time. Most recently, she shared a photo from her 33rd birthday party this past summer as a throwback and dedication to her love. She captioned the photo, "The day I met you, my life changed. Thank you my love!"
The rumored baby would be Kardashian's first child, but Thompson is a dad to son Prince Oliver, who will be 1 year old this month, according to Us Magazine. If the rumors are true, little Prince and his coming sibling will be close in age. Some reports even state that Kardashian is having a boy, meaning that Prince may be getting a little brother for the holidays.
I don't know about you, but I am hoping to receive some official news during the holidays about whether the sisters are actually expecting. That would make for a happy New Year indeed.
Check out Romper's new video series, Romper's Doula Diaries:
Watch full episodes of Romper's Doula Diaries on Facebook Watch.