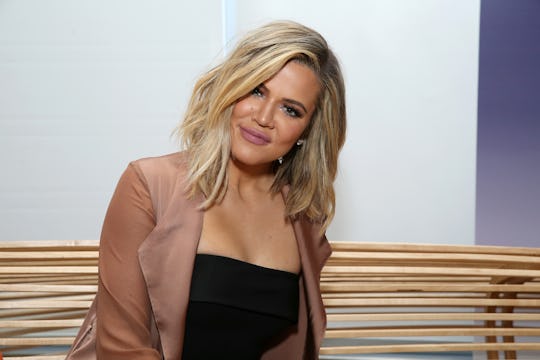 Cindy Ord/Getty Images Entertainment/Getty Images
Khloe Kardashian's Snapchat Is Full Of Conflicting Clues About Her Rumored Pregnancy
Another day, another chance to keep up with the Kardashians, but lately, it's been a whole lot trickier. There are reportedly not one, not two, but three pregnant Kardashian-Jenner children. On Sunday's episode of Keeping Up With The Kardashians, oldest daughter Kim Kardashian West confirmed that her surrogate was pregnant with her third child. Sadly, the episode did not confirm the other big pregnancy announcements made within days of each other last week: Kylie Jenner and Khloe Kardashian. As fans wait for the next episode of Keeping Up — and hopefully, some more answers — Khloe Kardashian's Snapchat may provide clues about her pregnancy — that still remains unconfirmed. Reps for Kardashian have not responded to Romper's requests for comment.
So, who's ready to play a little game of detective? Some of Kardashian's recent snaps have fans donning their Sherlock Holmes hats and comically oversized magnifying glasses trying to figure out if Khloe Kardashian is really pregnant — or not. Tricky stuff, this detective work. On Sunday, Kardashian posted a super cute video of herself with boyfriend and Cleveland Cavaliers center Tristan Thompson leaning on her belly. "I ate too much," he whined. Kardashian asks Thompson if his "tummy hurts," which he concurs: "My tummy hurts." To baby rabies-obsessed fans, this may as well be confirmation.
But then there was this weird little find on Kardashian's Snapchat: Three "family" passes for a Cleveland Cavs game — one for Thompson, and two for Kardashian. Does that mean she's wearing court-side badges for two? It might be reading just a little bit too much into things, but with the Kardashians, you never know. If anything, with how much sister Kylie Jenner has been teasing if she's pregnant or not, if Khloe was teasing us in the same way, it wouldn't be terribly surprising.
Unfortunately, upon closer inspection, it looks like one of those passes is from last year's season. Darn, foiled again!
One of the other pregnancy clues that eagle-eyed fans have spotted is how much attention Kardashian seems to be drawing to her entire abdominal region. In some snaps, Kardashian proudly shows off her bare abs, in her mirror, like maybe she's got something to prove — perhaps she's trying to prove that she couldn't possibly be pregnant because seriously, look at that six pack. Girl's core strengthening routine is on point.
Just a day before the above snaps, Kardashian seemed to be rocking the baggy weekend sweatshirt look. Maybe she has something on the down low that only baggy clothes can hide? But as soon as you scroll down, you can see that it's actually a cropped sweatshirt, and she again is showing off those killer abs. (In other news, Kardashian really likes all the animal Snapchat filters — her Snapchat Stories are filled with them.) So, maybe not pregnant?
But as you go further back, a week before her "stupid puzzle" snap, Kardashian posted a snap of herself coyly keeping her abs hidden behind a dressing robe and a towel placed at just the right place to hide a pregnancy bump.
All of this is to say that no, we still don't have any official word on whether or not Khloe is expecting her first child with her boyfriend. It would be incredible news if she is, given Khloe's fertility struggles with her ex, Lamar Odom. Speaking of, Odom wished Kardashian well on the news that she might be pregnant, in an appearance on Wednesday's Everyday Struggle podcast from Complex. Until Kardashian herself confirms the news, fans will just have to wait and see if Khloe will finally tell us — is she or isn't she pregnant — on the next episode of Keeping Up.
Watch Romper's new video series, Romper's Doula Diaries:
Check out the entire Romper's Doula Diaries series and other videos on Facebook and the Bustle app across Apple TV, Roku, and Amazon Fire TV.