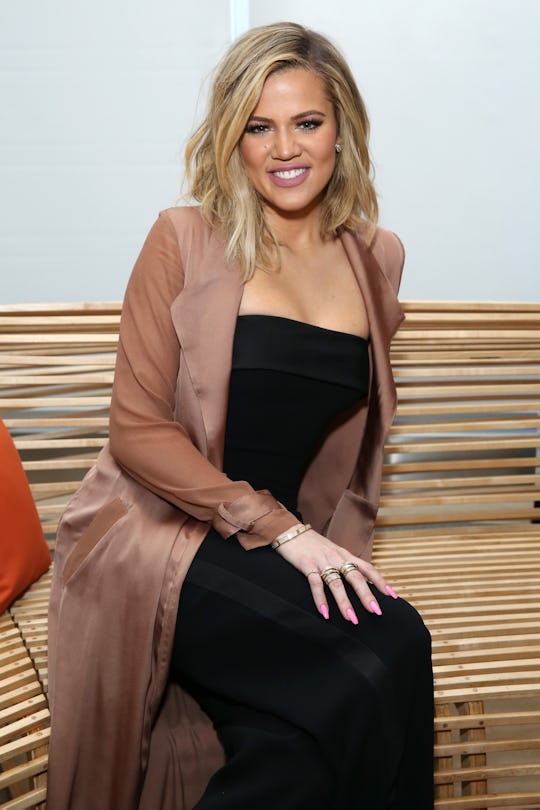 Cindy Ord/Getty Images Entertainment/Getty Images
Khloé Kardashian Shared A Snapchat Of Her "9 Month Bump" & I'm Actually Screaming
I can never decide if it feels like Khloé Kardashian has been pregnant since the dawn of man's existence or for about 10 seconds. Either way, I'm obviously wrong. Not that it matters, because apparently the end of the final Kardashian/Jenner pregnancy for this round is nearly upon us. According to Khloé Kardashian's Snapchat of her "9 month bump", she's strolling calmly towards finally welcoming her first baby.
The 32-year-old Good American jean designer is now happily ensconced in Cleveland with her boyfriend, NBA player Tristan Thompson. The two are reportedly nesting and getting ready to welcome their baby girl any day now, and sources close to Khloé told People that she is getting more excited than ever now that her third trimester is finally drawing to a close. And she's not the only one waiting with baited breath to meet the newest member of the Kardashian/Jenner clan, as the source told People; "Any day now! Khloé's family is on baby watch. Everyone is super excited. She is ready for her baby girl to arrive."
While the family is understandably excited to see the Revenge Body star become a first-time mom, she is taking it in stride. Literally, if her Snapchat is to be believed.
Apparently Khloé is finding pregnancy significantly less stressful these days, especially since she isn't flying back and forth between Cleveland, where she shares a home with Tristan, and her own hometown of Los Angeles, where the rest of the Kardashian/Jenner family is situated. A source told People:
She very much enjoys Cleveland. She can go out without being photographed. No one judges her. She loves it! Khloé found it much more stressful to be pregnant in Los Angeles. She is happy that she gets to enjoy the last part of her pregnancy in peace.
But don't go worrying that there's tension in the family or anything; a source told Cosmopolitan that her mother and sisters, Kim and Kourtney, are planning to fly to Cleveland to be there for the birth. As for who she will allow in the room with her while giving birth... she's reportedly being wisely selective about her choices. Whoever annoys her isn't allowed in, according to People:
She is doing great and seems very happy every day. Her family is flying to Cleveland when it's baby time. Khloe especially wants Kris there for the birth. [Khloé] is a bit nervous about the birth, but mostly excited. She is taking it easy in Cleveland, getting everything ready and she can't wait to meet her baby girl.
Now that Khloé is nearly ready to give birth, I'm starting to worry about where she's going to put her hands when she's posing for pictures. This particular Kardashian has truly loved holding her baby bump during every stage of pregnancy that she shared with fans, as has her boyfriend Tristan. As excited as fans are to see the third and final Kardashian/Jenner baby from this round of pregnancies (sister Kim Kardashian-West welcomed daughter Chicago West via surrogate on Jan. 15, while Kylie Jenner welcomed daughter Stormi Webster on Feb. 1), I'm really going to miss all of that adorably bump cradling.
I guess, at the end of the day when the baby arrives and Khloé and Tristan share photos of their little girl, that will be just as exciting. Maybe more so on account of all the photo ops and the name conspiracies that will surely crop up just as they did with Kylie Jenner's daughter Stormi Webster (or should I say baby Butterfly?). It's an exciting time to be alive, Kardashian/Jenner-wise. So many bumps, so many mysteries... and so much happiness.
I'm gushing, stop me.
Check out Romper's new video series, Bearing The Motherload, where disagreeing parents from different sides of an issue sit down with a mediator and talk about how to support (and not judge) each other's parenting perspectives. New episodes air Mondays on Facebook.