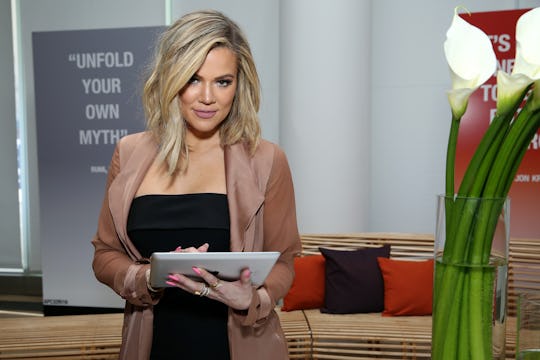 Cindy Ord/Getty Images Entertainment/Getty Images
Here's How Khloé Kardashian Handles All The Parenting Advice She Gets
As everyone knows by now, the Kardashian-Jenner family has officially expanded by three. And now that a certain Kardashian has officially given birth to her first child — a baby girl named True Thompson — she's starting to navigate that tricky new world of parenting as she goes, likely with the help of her sisters and mom. But, Khloe Kardashian's thoughts on taking parenting advice are actually totally understandable and she has a pretty down-to-earth approach when it comes to dealing with all the solicited and unsolicited advice new moms tend to get.
Of course, it's only been a few weeks since Kardashian gave birth to her baby girl on April 12. But as any new mom knows, the parenting advice starts to arrive pretty much the day you announce your pregnancy — sometimes even before then. So Kardashian has likely been bombarded with people telling her their own takes on parenting and with an unbelievable amount of well-meaning remarks that really just stress any new mom out.
That's why her latest remarks about how she deals with the barrage of information is totally on par. On her blog, Khloe With A K, Kardashian explained that, "When it comes to pregnancy and parenting, I've taken advice with a grain of salt," according to Us Weekly. Because really, as Kardashian put it, "Everyone has their own style," and it's unrealistic for every mom out there to parent the same way.
There are so many blogs, websites, and books dedicated to first-time parents, so it makes sense that Kardashian would pick and choose which bits of wisdom she'll utilize carefully. There are about a million parenting styles out there and it doesn't take much to get overwhelmed with it all. But, as Kardashian wrote on her blog, according to Us Weekly, it's nice that all those tips are out there, but that doesn't mean you have to take them.
Kardashian noted that she still takes advantage of the information out there, but she does it on her own terms. "That's why my apps and mommy sites have really come in handy," she wrote, according to Us Weekly. "When I want a quick answer or to check in with what's considered normal, I just pick up my phone."
Some fans might be begging Kardashian to comment on the cheating allegations surrounding her boyfriend and father of her child, Tristan Thompson. (Romper's request for comment regarding the cheating allegations from both Thompson and Kardashian's reps were not immediately returned.) But, it's clear that she has one thing on her mind: taking care of her little one and she even wrote about her favorite apps to use when she could use some help. Per Us Weekly, she told fans on her blog about some of her favorite baby-tracking apps:
[I use] Baby Connect — This app helps me log everything from True's feedings to her diaper changes (so crazy we have to keep track of this sh*t!) It basically helps with sanity when sleep is nonexistent. (OMG, sleeeeeeeep!).
As Kardashian adjusts into life as a new mom, it's nice that she's being so transparent about her journey. The 33-year-old reality star knows that new parents should be able to navigate their way through parenthood on their own terms, but being able to reach out and ask for help to those close to you when necessary is also important.
Check out Romper's new video series, Bearing The Motherload, where disagreeing parents from different sides of an issue sit down with a mediator and talk about how to support (and not judge) each other's parenting perspectives. New episodes air Mondays on Facebook.