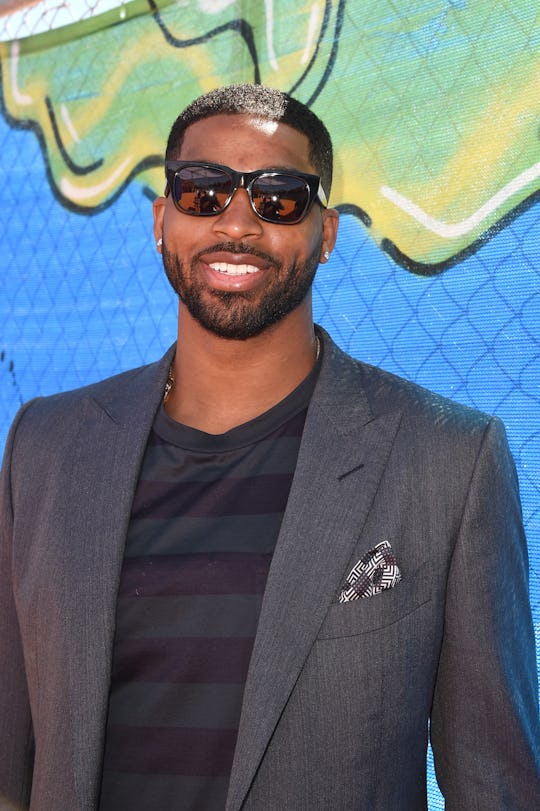 Kevin Winter/Getty Images Entertainment/Getty Images
That Rumor About Tristan Thompson's "Mistress" Being Pregnant Is Reportedly A Huge Hoax
With Khloé's Kardashian's due date just days away, recent reports that her boyfriend Tristan Thompson cheated on her have pretty much been taking over the internet. And now, as if things weren't bad enough, Tristan Thompson's alleged mistress is claiming she's pregnant. (Neither Thompson's nor Kardashian's reps have responded to Romper's request for comment.)
Luckily for all those involved, TMZ is already reporting that the woman was simply trolling Thompson and Kardashian. Quick life lesson for her, though: Publicly claiming to be the pregnant mistress of someone — especially someone famous who's even more famous girlfriend is about to give birth — is not a good prank, no matter what way you slice it. Regardless, the rumor is a hoax, and here's everything you need to know about how it fits into the overall allegations.
Earlier this week, footage emerged of a man people think was Thompson kissing an unidentified woman at a New York City club Saturday night, followed by them entering his hotel together, and then leaving a few hours later, as reported by the Daily Mail. Also this week, TMZ unearthed footage from October, which claimed to feature Thompson lounging with three women at a club, one of whom he reportedly kissed, and another who apparently stroked his, um, upper thigh.
Now, as People is reporting, an Instagram user called @ms.stephaniee is claiming she's the one who appeared in the video (it has since been removed), which can be seen on The Shade Room's Instagram. Stephanie's Instagram profile is now set to private, and her bio reads, "Will not be taking anymore interviews from the media. Thank you." Romper could not reach Stephanie for comment.
Before setting her Instagram to private, Stephanie reportedly posted that she was pregnant, she shared a video of what she said was her having sex with someone she claims was Thompson, and she posted alleged text messages from the basketball player.
"If I was there I would grab u while u try to walk away from me than I would pull ya hair and kiss you than rip ya clothes off and lay u down while I suck ya p**** and say sorry," read one of the messages. (It's safe to assume that Thompson did not actually write that.)
As noted above, TMZ reported that Stephanie was not actually the woman reportedly spotted with Thompson (or someone who looks like him) this weekend. The mystery woman's is actually Instagram model Lani Blair, according to Page Six. Blair's profile, though it boasts 362,000 followers, is currently set to private. As reported by Page Six, Blair works as a bartender at Club Angels, a strip club in Queens, New York. Blair did not immediately respond to Romper's request for comment regarding the rumors.
Neither Thompson nor Kardashian have publicly commented on the reports of Thompson cheating on Kardashian (both this past weekend and in October). They've both been silent on social media over the past two days — a silence that correlates with reports that Kardashian was already experiencing contractions and that her family was on their way to Cleveland on Wednesday.
All that being said, the only people who know the intricacies of their relationship are the two of them, and hopefully everything works out for the mama-to-be, especially considering she recently settled down in Cleveland, where Thompson lives when he's not traveling with the Cavaliers.
Additionally, just a few days ago, shortly before the reports of Thompson's infidelity broke, Kardashian wrote a blog post titled "Why I'm Not Afraid About Giving Birth." "I've seen over eight births live and in person. Women were made to do this!" she wrote on her blog. It seems like Kardashian's pregnancy has been relatively stress-free, in part thanks to keeping it private for so long, so hopefully she is still enjoying the end of her pregnancy despite the swirl of rumors about her relationship.