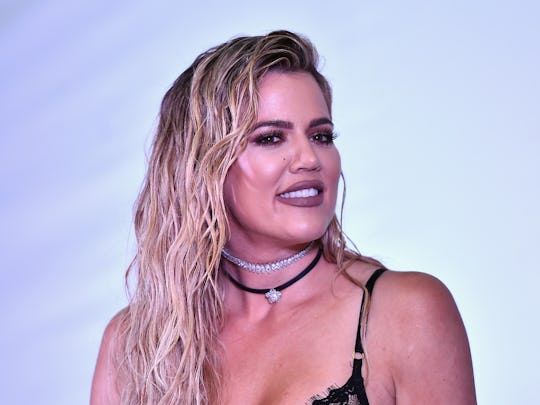 Alberto E. Rodriguez/Getty Images Entertainment/Getty Images
Khloé's Video Of True In A Tutu Will Make You Melt
If there's one person in this world who is more excited about being a new mom than Khloé Kardashian, I definitely haven't met them yet. The 33-year-old Good American jean designer might not be sharing an abundance of details about her 1-month-old baby girl True Thompson, but when she does it's always an ecstatic breath of fresh air. Khloe's latest video of True in a tiny tutu is just about the cutest thing you've ever seen, trust me. Because baby tutus are amazing, obviously.
Little True Thompson was born in Cleveland, Ohio on April 12. She was the final baby to be born in the famed Kardashian/Jenner triple threat baby boom; first there was Kim Kardashian West's daughter with husband Kanye West, Chicago, on Jan. 15 via surrogate. Then youngest sister Kylie Jenner welcomed baby girl Stormi Webster with boyfriend Travis Scott on Feb. 1. And finally came True Thompson. I'll admit to you that I was the most excited about True's birth because I've always been Team KoKo, and since I'm not part of the family I get to pick a favorite without fear of impunity. Perhaps it's because Khloé was always such a great aunt to her little nieces and nephews and her fans always knew she's be such an amazing mom.
Which is clearly true, because only the best moms dress their babies in tutus, I think.
There have been very few pictures or videos of baby True so far, so fans like myself are generally pretty excited to see whatever we can. Prior to the tutu video (also let's take a moment to appreciate the perfection of True's pink bow), True has been slightly covered up by Instagram filters like little flowers and freckles. So technically, this is her first au naturel shoot. No filters, no makeup. Just a girl in her tutu on a couch. Brave.
So what do we know about True Thompson, Khloé's daughter with Cleveland Cavaliers' player Tristan Thompson? According to her mother, she's a big fan of sleeping, pooping, and eating. The Revenge Body host took to her website last week to discuss her daughter's painfully familiar routine, according to Us Weekly:
The truth is, all babies do is eat, sleep, potty, REPEAT for weeks. I love a routine, so not going to lie, this works for me.
Khloé might not mind her daughter's routine, but she is looking forward to the next stage, when True can play with all the cool stuff she bought her, as she wrote on her website:
When I was pregnant and getting the nursery ready for True, I was so excited to fill it up with anything and everything I thought I might need. And over a month in, there are a ton of products I still haven't used.
Here's something else we can all look forward to in the coming weeks and months; a potential photo shoot featuring all the youngest members of the Kardashian/Jenner family. Kim Kardashian West told Entertainment Tonight that she and her sisters are planning something special soon:
We're so excited. Me and Kylie [Jenner] and Khloe are planning one of those kids' photo shoots, just like a silly shot that we can have all the girls, 'cause Stormi and Chicago have so many pictures together. So, we can't wait for True to join the crew.
This photo shoot needs to happen as soon as humanly possible. And considering momager Kris Jenner recently hinted that Khloé might be moving back to the Calabasas area of Los Angeles soon, it could be any day now.
If I could put in a request for True, Stormi, and Chi to wear matching tutus that would be great, thanks!