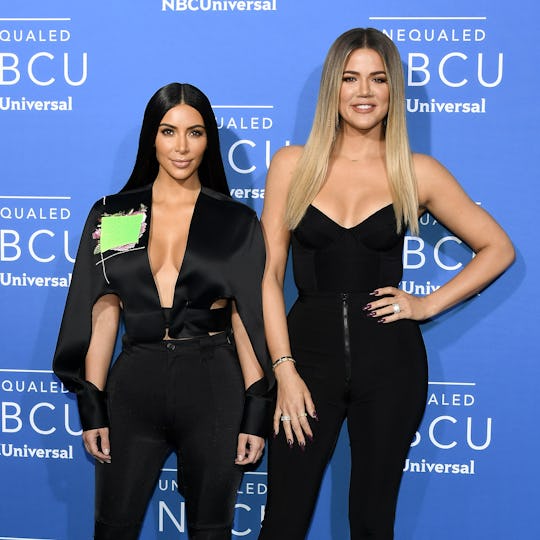 Dia Dipasupil/Getty Images Entertainment/Getty Images
Khloe's Mother's Day Gift To Kim Is Hilarious & *Super* Feminist
As one might expect, the Kardashian-Jenner family goes all out for Mother's Day. Four of the five KarJenner sisters are now mothers, so naturally, they showered each other in flowers, balloons, and heartfelt cards for the holiday on Sunday, documenting the festivities all over social media. However, one sister went for an extremely different gift-giving approach. Khloe Kardashian's Mother's Day gift to Kim is sure to make you giggle — and remind you of a particularly fun bachelorette party.
Kim chronicled herself opening her gift from Khloé on her Instagram Story. At first, the present seems like your average $480 Prada makeup bag. "OK I'm a little late but, I just opened Khloé's Mother's Day present," Kim says, over the the footage of herself showing off the pouch. "I thought it was this really cute little Prada bag, but..." she says before revealing the bag's contents. It quickly becomes clear that the bag is filled with... rainbow-colored penis hard candies, and what appears to be a black vibrator.
There's also a note in the bag that reads: "Sometimes moms just have to take things into their own hands. Xo Koko."
"Thank you Koko," Kim adds with a laugh. She also captioned the video with the laughing emoji and an "OMG."
It honestly shouldn't be a surprise that a Kardashian would give her sister a vibrator for Mother's Day, considering how goofy, open, and tight-knit they all are with each other. Plus, Khloé and Kim have used their social media platform to promote sex-positivity, especially for mothers, on many occasions in the past. For example, earlier this year, Kim posted a topless selfie on Instagram, on which Khloé responded: "Show it off!!!! I'm here for it!!!!"
Ever since she became a mother, Kim's risqué photos have turned into fodder for trolls, who seem to believe someone can't feel sexy while also raising children. Kim's posts (as well as Khloé's supportive comment) highlight the fact that being sexy and being a mother are not mutually exclusive, and the gals continue to shatter that misconception by giving vibrators as Mother's Day gifts.
All that being said, it was still a pretty hilarious surprise to see the contents of the Prada bag, given how tame most of the other KarJenner Mother's Day gifts were. That is, except for the balloons Kylie received from Kendall, which spell out "MILF." Other than that, everyone seems to have sent each other pretty basic (but still super sweet) presents.
For example, Khloé, the mastermind behind Kim's naughty gift, shared photos on Instagram of balloons reading "Koko" and flower arrangements spelling out "Mommy" that she received. Kourtney was given "Happy Mother's Day Mom" balloons, flowers, and a homemade breakfast from her kids, as well as flowers from Kim, Kendall, and Rob, as seen in her Instagram Stories. And Kim's other gifts, also shown on her Insta Stories, included flowers from Rob, more flowers from Kourtney's ex Scott Disick, and even more flowers from her bestie Malika Haqq. Additionally, her favorite present of the day seems to be the photo she took with her three children: North, Saint, and Chicago. Alongside the artistic black-and-white photo of the four of them lounging together, Kardashian wrote:
You don't even understand how many lollipop bribes this pic cost me...but it was so worth. Happy Mother's Day to all the moms out there. I'm the luckiest mom in the world to have these three babies in my life!
It's clear that the KarJenner sisters had a lovely, children-filled Mother's Day this year. But next time Kim needs a break from said children, the perfect relaxing activity awaits her.